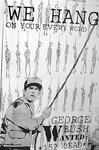 The Poster Police: student harrassed by Secret Service

World News

AntiWar Movement
McCarthyism Watch, The Progressive
Security for Activists:
Overcoming Repression: invaluable collection of information
BOOKSELLERS THREATENED BY FOREIGN INTELLIGENCE SURVEILLANCE ACT, 11/15

Continuing Coverage -- The Hartford 18

Afghan Genocide
Saudi Arabia
Bin Laden, Narcoterrorism, the CIA,
and the House of Saud
Suppressing Dissent Archives:
Suppressing Dissent in the US
Resurgent McCarthyism
Archive 7/02 - 11/02
Black Panther political prisoner refused medical care 11/27/02 SF Bay View: "They insist upon the incarceration of my father, Political Prisoner and ex-Black Panther Robert Seth Hayes, yet they refuse to provide him with even minimal medical care even as hepatitis C and diabetes try to claim his life. On Oct. 3, my father was removed from the hospital ward where he had received daily treatments for those dread diseases. This is nothing less than terrorism when a prison administration willfully ignores the life and death medical needs of their inmates. My father was moved to the hospital in the first place because of the seriousness of his illnesses, and even in the hospital under medical supervision he complained of dizziness, weakness, headaches behind his eyes, numbness in his limbs and lethargy. His symptoms make clear that his health is precarious and deserves serious consideration, not release from the hospital into general population where he is forced to watch his health deteriorate."

War on terrorism challenges the right to remain silent 11/26/02 Sydney Morning Herald: Miranda may be overthrown - "But police in Oxnard, near Los Angeles, assert the Miranda ruling does not include a "constitutional right to be free of coercive interrogation" but only a right not to have forced confessions used at trial."

Is John Poindexter really the best bet for this job? 11/24/02 Asheville Citizen Time, NC: from Feb '02, concerning Admiral Poindexter's suitability to be big brother - "According to the British newspaper The Guardian, the IAO "will supply federal officials with `instant' analysis on what is being written on e-mail and said on phones all over the U.S.'' Putting aside all other issues, you have to ask: Do we really want someone with a proven track record of hiding information from the public, of creating his own foreign policy, implementing it, destroying records of it and then lying about it someone we want in charge of such a sensitive office?" Note the quote from a British paper, needed since the US media simply doesn't cover the news.

Big Brother Is Back - The Pentagon's plan to eyeball America's databases is drawing fire—as is its controversial salesman 11/24/02 Newsweek: "But on Capitol Hill, Democrats and some Republicans—including retiring House Majority Leader Dick Armey—are concerned that the project is part of a wider White House strategy to erode civil liberties in pursuit of security. (A court recently granted the government expanded surveillance powers.) They are especially irritated that they knew nothing about the $10 million experiment, since the Pentagon quietly buried it under "technology development" in the Defense bill. Now they're demanding greater scrutiny. Democratic Sen. Dianne Feinstein says she wants to freeze the program's funding until Congress can hold hearings. Poindexter may not be able to ignore the rumblings. "He forgot the question you always ask," says one Pentagon official. "How would this look on the front page tomorrow?"

Proposal to Enlist Citizen Spies Was Doomed From Start 11/24/02 Washington Post: "The Justice Department's Operation TIPS program, which would have enlisted tens of thousands of truckers, bus drivers and other workers as citizen spies, was doomed before it began. The Homeland Security package approved by the Senate last week and slated to be signed by President Bush includes language explicitly prohibiting the government from implementing the controversial initiative. It was hounded by criticism from civil libertarians and targeted for elimination by key lawmakers."

Justice Dept. Seeks to Use New Power in Terror Inquiries 11/23/02 NYT: "The moves grow from a decision last week by a special appellate panel of the Foreign Intelligence Court of Review in Washington that validated the Justice Department's broad surveillance powers under an antiterrorism law passed last year. The appeals court found that prosecutors were permitted to use wiretaps obtained under the Foreign Intelligence Surveillance Act in prosecuting people accused of being terrorists. For more than 20 years restrictions had deterred criminal investigators and intelligence agents from sharing information."

The No-Fly List 11/22/02 In These Times: "Nancy Chang, a senior litigation attorney at the CCR, who also has been singled out for searches and questioning at the airport, says the government is "leveraging legitimate air safety concerns into a program that targets law-abiding Americans for questioning and detention based on their political viewpoints… This week, the CCR announced that it is considering a lawsuit against the TSA. A number of those whose travel has been interfered with have signed on as possible plaintiffs, and CCR is inviting those with similar experiences to contact them. Meanwhile, the ACLU has posted a no-fly complaint form to fill out on its Web site for those who are harassed or prevented from flying."

US defends plan for search of data 11/21/02 Boston Globe: "Poindexter's project would cull data from all available sources, including driver's licenses, credit card transactions, airline tickets, and gun purchases. Privacy advocates object, saying that the system would be a radical departure from US legal traditions that limit surveillance of innocent citizens. ''Americans expect and have the right to expect that their lives don't become an open book when they have not done and aren't even suspected of doing anything wrong,'' said Katie Corrigan, legislative counsel for the American Civil Liberties Union." Poindexter was part of Coca Contra and is barred from Costa Rica for suspected drug trafficking activities committed with Secord, North, et al.

Security act to pervade daily lives 11/21/02 CSM: "When you board a plane in the next year, your pilot may be armed. Make a call from a pay phone at the ballpark, and it may be tapped. Pay for a sandwich with a credit card, and the transaction may wind up in an electronic file with your tax returns, travel history, and speeding tickets."

They spy - How law enforcement is keeping tabs on the new peace movement. 11/20/02 SF Guardian: "The Sept. 8 flight was poised to take off from Newark, N.J., for Dubai, United Arab Emirates, and a final destination of Kabul, Afghanistan, when agents with the Federal Bureau of Investigation strode aboard. The G-men escorted seven passengers off the plane and into a room where they were interrogated for six hours. Flight 91 took off without the group. Their offense? Signing up for a two-week "Reality Tour" of bomb-pocked Afghanistan, a junket organized by San Francisco-based human rights group Global Exchange. "They wanted to know about Global Exchange," says one of the detainees, Glenda Marsh, a Sacramento peace activist and state-employed biologist. "They asked me if I'd heard the people I was traveling with make anti-American statements."

Tribunal expands wiretap authority 11/19/02 Boston Globe: "The wiretapping decision by the special Court of Review made it clear that the Justice Department can use foreign intelligence wiretaps not only to gather data on spies or terrorists, but also to build evidence for criminal cases. The Bush administration was the first to take that position."

American Style Justice 11/15/02 Alternet: "Never mind that the only countries in the world, aside from the United States, that have used the death penalty against juveniles since 1985 are Iraq, Iran, Bangladesh, Nigeria, Pakistan, Saudi Arabia and Yemen. At least Saddam Hussein is on our side."

'A supersnoop's dream' 11/15/02 Washington Times: "There is a great danger in this provision. It gives carte blanche to eavesdrop on Americans on the flimsiest of evidence, if any evidence at all," said Phil Kent, president of the Southeastern Legal Foundation. Mr. Kent called the provision "an unprecedented electronic dragnet." "I think it's the most sweeping threat to civil liberties since Japanese-American internment," Mr. Kent said. Mr. Kent and outgoing Rep. Bob Barr, Georgia Republican, are lobbying the Senate to remove this and other provisions they say are a threat to civil liberties and restrict the public's right to know of government activities."

You Are a Suspect 11/14/02 NYT: "Every purchase you make with a credit card, every magazine subscription you buy and medical prescription you fill, every Web site you visit and e-mail you send or receive, every academic grade you receive, every bank deposit you make, every trip you book and every event you attend — all these transactions and communications will go into what the Defense Department describes as "a virtual, centralized grand database."

Harvard speech canceled - Concerns voiced on poet's words against Israelis 11/13/02 Boston Globe: "A Harvard University speech by an award-winning Irish poet was canceled yesterday after Harvard president Lawrence H. Summers and several professors and students complained about the poet's verbal attacks on US-born Jewish settlers and Israel's treatment of Palestinians… Paulin, who also teaches at Oxford University, has been a longtime critic of Israel on British television news programs and in his own writing; last year, for instance, he published a poem referring to the Israeli Army as a ''Zionist SS.'' He gained notoriety this year when he was quoted in an Egyptian newspaper, al-Ahram Weekly, describing Brooklyn-born Jews moving to Israeli settlements as ''Nazis'' and ''racists'' and saying that they ''should be shot dead.''

Hellzapoppin' at the Pentagon - Rumsfeld's Defense Science Board proposes 'prodding' terrorists to terrorism 11/13/02 Working for Change: "How will the terrorists be "sparked… into action?" asks reporter Chris Floyd. Will it be done "by killing their family members? Luring them with loot? Fueling them with drugs? Plying them with jihad propaganda? Messing with their mamas? Or with agents provocateurs, perhaps, who infiltrate groups then plan and direct the attacks themselves?" This part of P2OG's strategy seems eerily reminiscent of the FBI's COINTEL program of the sixties and seventies, when often the people advocating the most violent acts were the FBI's agents."

Guantanamo Photos Cause Alarm among Human Rights and Prisoners Rights Groups 11/12/02 Palestine Chronicle: "However, the same elderly man was interviewed by Qatar-based Al-Jazeera satellite television, where he presented a very different case: "They kept us in cages like animals," he said, referring to chain-link open-air cells where hundreds of prisoners, mostly Afghans are held. He continued, saying, "We were only allowed out twice per week, for half an hour." According to the elder, Hajji Faiz Mohammed, the Arabs who were held were treated the worst, because they refused to speak. He said that they would be beaten and tortured so badly, that they would lose consciousness."

Homeless vet arrested for protest 11/11/02 Miami Herald: "Rothman insisted on reading a one-page editorial that saluted veterans, accused an American scientist of causing the post-Sept. 11 anthrax attacks and spoke out against a possible war with Iraq. ''The servicemen and women of our nation are again being asked to offer their lives on foreign soil to prevent conditions which the political and military leadership themselves here at home have developed,'' Rothman wrote."

Pentagon Plans a Computer System That Would Peek at Personal Data of Americans 11/9/02 Cryptome: "As the director of the effort, Vice Adm. John M. Poindexter, has described the system in Pentagon documents and in speeches, it will provide intelligence analysts and law enforcement officials with instant access to information from Internet mail and calling records to credit card and banking transactions and travel documents, without a search warrant. Historically, military and intelligence agencies have not been permitted to spy on Americans without extraordinary legal authorization. But Admiral Poindexter, the former national security adviser in the Reagan administration, has argued that the government needs broad new powers to process, store and mine billions of minute details of electronic life in the United States." The Coca Contra guru at it again.

Man Believed Slain in Yemen Tied by U.S. to Buffalo Cell 11/9/02 NYT: "American officials said today that a United States citizen believed to have been killed in Yemen by an American missile was probably the ringleader of a group of six men from the Buffalo area identified by law enforcement officials as a sleeper cell of the Qaeda terrorist network." The death squads at work.

Imam Jamil al-Amin to face news charges in US 11/6/02 Ummah News: H. Rap Brown - "Due to the fact that the case against Imam Jamil had not been proved beyond reasonable doubt, a hearing on the motion for a new trial had been scheduled for 15 November 2002 in Atlanta, Georgia. The appeal was looking extremely promising. Due to the fact that the case against Imam Jamil had not been proved beyond reasonable doubt, a hearing on the motion for a new trial had been scheduled for 15 November 2002 in Atlanta, Georgia. The appeal was looking extremely promising. Earlier this October the Federal District Court in Montgomery brought new charges against Imam Jamil, stemming from two years ago. He has been accused of using a rifle to assault three US Deputy marshals as they approached him in White Hall, Alabama. This new trial is expected to begin in early December 2002. It is widely believed that these new charges are being bought in order that the federal government can gain a second conviction against Imam Jamil should he win his appeal against the murder charge."

The Echelonization of America: NSA to spy domestically? 11/5/02 Cryptome: "The head of the National Security Agency said last week that Congress might want to aim the most powerful surveillance system in the world at American citizens. Lt. Gen. Michael Hayden, in a rare public appearance before the Senate Intelligence committee, said the ongoing terrorist threat means America needs to debate where to draw the line between foreign and domestic surveillance. Currently the NSA is prohibited from spying domestically."

Dear Mr. President 11/5/02 Gabe Hudson: "SECURITY WARNING - It has recently come to our attention that by visiting this site you have now been automatically registered on a government list. We apologize for this, and for any inconvenience which may result from this regrettable turn of events. As a precautionary measure, we advise that upon waking tomorrow, you carefully inspect the inside of your mouth, and please, given recent events, do not overlook the space under your tongue. Also, and of utmost importance, we recommend you thoroughly inspect the back of your head for any foreign objects."

President To Author: Your Book Is Unpatriotic 11/5/02 Hartford Courant

Johnny Gulf War Syndrome? Chemical Weapons and Homicidal Mania 11/1/02 Counterpunch

The Pentagon Plan to Provoke Terrorist Attacks 11/1/02 Counterpunch: "According to a classified document prepared for Rumsfeld by his Defense Science Board, the new organization--the "Proactive, Preemptive Operations Group (P2OG)"--will carry out secret missions designed to "stimulate reactions" among terrorist groups, provoking them into committing violent acts which would then expose them to "counterattack" by U.S. forces."

Red Squads Redux: Portland Activists Mobilize Against the FBI's Joint Terrorism Task Force 10/31/02 Counterpunch: "The hearing threw into relief the willingness of this liberal city government to collaborate with corporate interests and the Bush administration's domestic war on dissent. It also demonstrated the strength and persistence of an ad hoc coalition of local activists that played a little known role in the Portland city government's well-publicized refusal last year to cooperate in the interrogation of thousands of Middle Easterners."

Was Wellstone assassinated? Skeptics, conspiracy buffs wonder if Minnesota Democrat targeted for murder 10/31/02 WorldNet Daily

Help stop the torture of Herman Wallace of the Angola Three 10/30/02 SF Bay View: "There is a man in this dungeon the security is really messing with. I'll talk to the lawyers about it when I have a chance. The man has been laying on his back in four-point restraints since Oct. 13. When a man goes on four-point, they let him up the next day, but they are keeping this man like this without a shower or feeding him. "I have been sending him my food when I can. He urinates and defecates on himself and they leave him like that. His mother came all the way from Shreveport to visit him and see how he was doing and because they have him in four-point, they told her she could not see him. There is another brother, a tier walker, who told me that Security came to Camp J the other day and confiscated a few inmates' Holy Korans and literature." And on and on, in the hell hole of Angola, Louisiana.

THE (POSSIBLE) ASSASSINATION OF PAUL WELLSTONE 10/29/02 Ted Rall: "Now some Democrats and progressive Americans are asking the unthinkable about an administration they increasingly believe to be ruled by thugs and renegades. Did government gangsters murder the United States' most liberal legislator?"

Farrakhan: Sniper Suspect Was Member 10/26/02 AP: "Farrakhan said Muhammad joined the Nation of Islam in 1997 but that he had not been in contact with the group since 1999, when he was involved in a domestic dispute with his wife, also a member of the group. "Those who knew him never said ugly things about his conduct or his behavior," Farrakhan said." -- This fits the Gulf War Syndrome pattern of someone suddenly snapping and giving vent to homicidal urges.

Justice argues Bush has final say in Hamdi case 10/26/02 Washington Times: "President Bush has authority as commander in chief to order the indefinite imprisonment of American-born terror suspects without second-guessing by federal judges, the Justice Department told a federal appeals court yesterday. Justice Department lawyers set the stage for a landmark courtroom battle in Virginia on Monday, telling the 4th U.S. Circuit Court of Appeals in Richmond that a federal judge in Norfolk did not have the authority to conduct an inquiry into the president's decision to imprison Yaser Esam Hamdi as an "enemy combatant" without charges, a lawyer or a trial."

A MAN NAMED MUHAMMAD - Imposing an agenda on the Maryland sniper 10/25/02 Antiwar.com: "Clearly, they have been looking for ways to strike back at us since the failure of their follow on attacks after September 11. This may be it. Remember that we are at war."

John Allen Muhammad is African American Muslims' Worst Nightmare 10/25/02 Pacific News

Sniper suspect served near chemicals tied to Gulf War malady 10/25/02 The Plain Dealer, Cleveland: "The Washington sniper suspect, John Allen Muhammad, may have been exposed to chemical weapons that have been linked to Gulf War Syndrome, an illness which experts said can result in unexplained bouts of intense violence. Muhammad, arrested early yesterday as a prime suspect in the Washington area shootings, served with the Army's 84th Engineer Company during the Persian Gulf War, military officers said. That unit, attached to the 2nd Armored Cavalry Regiment, helped inspect, catalog and destroy extensive stockpiles of Iraqi chemical weapons at a depot near Khamisiyah, Iraq, in March 1991 after the cease-fire March 3, Pentagon records show. According to Defense Department and CIA documents, the 84th Engineers handled the Iraqi chemical weapons stored in bunkers at the Tall al Lahm Storage Depot South and Tall al Lahm Ammo Storage Facility near Khamisiyah. The 84th Engineers also helped demolish Iraqi rockets filled with the deadly nerve agent Sarin during March 10-13, 1991, Pentagon documents show. The process of blowing up the rockets may have vaporized dangerous amounts of the nerve agent, Pentagon investigators later concluded. According to a final Pentagon report on the issue, "U.S. troops may have been exposed to chemical agents that are a suspected cause of Gulf War Syndrome." Gulf War Syndrome is the name now applied to a variety of complaints that can range from mild headaches and dizziness to illnesses such as amyotrophic lateral sclerosis, or Lou Gehrig's Disease. Out of the roughly 540,000 American troops who served in Desert Storm, some 175,000 are thought to have some form of the neurological and neuro-immune illnesses that have been documented so far. "Once it came out that he had a military background, I said this must be a Gulf War veteran," said Dr. William E. Baumzweiger, a Los Angeles neurologist and psychiatrist who specializes in treating Gulf War Syndrome patients. "There is no doubt that a small but significant number of Gulf War veterans become homicidal" because of Gulf War Syndrome, said Baumzweiger, a leading expert on the syndrome." OK.

Ocupa Ranch Rescue granjas frente a Sonora - Están a la espera de "cazar" indocumentados 10/20/02 La Jornada, Mexico: "Alrededor de 50 personas armadas con rifles y pistolas, y vestidas con ropas de camuflaje tipo militar, agrupadas en la organización antinmigrante Ranch Rescue, arribaron a la frontera entre Sonora y Arizona y se desplazaron en los ranchos ubicados al oeste de Nogales, Arizona, en busca de indocumentados."

More Anti-War Activists Snagged by "No Fly" List 10/16/02 Progressive McCarthyism Watch: "And I said, 'Well, I can tell you why. We work on a paper that opposes the war on terrorism.' Her eyes got kind of big, and she said, 'Oh.' "

The Making of a "Terrorist" 10/16/02 Willamette Week, Oregon: "John Ashcroft says native Portlander Patrice Lumumba Fordis a threat to national security--but friends and family are having trouble connecting the dots."

No easy sentence: Peace protesters do time with hardened cons 10/14/02 AP: "For years, peace protesters arrested for trespassing at Fort Benning were allowed to serve their sentences at minimum-security federal institutions closer to their homes, where they could kiss relatives and hold babies in visiting rooms. Not anymore. Some protesters -- including a priest and a grandmother-to-be -- were sentenced earlier this year to serve their six-month sentences alongside thieves and drug addicts behind razor wire in a rural Georgia jail. "The only thing I can come up with is that they are getting mean," the Rev. Roy Bourgeois, founder of the protest group School of the Americas Watch, said of Bureau of Prison officials." Mean and surly.

Bush's Conspiracy to Riot 10/13/02 Consortium News: published 8/5/02. "After the Miami "Brooks Brothers Riot" – named after the protesters' preppie clothing – no government action was taken beyond the police rescuing several Democrats who were surrounded and roughed up by the rioters. While no legal charges were filed against the Republicans, newly released documents show that at least a half dozen of the publicly identified rioters were paid by Bush's recount committee. The payments to the Republican activists are documented in hundreds of pages of Bush committee records – released grudgingly to the Internal Revenue Service last month, 19 months after the 36-day recount battle ended. Overall, the records provide a road map of how the Bush recount team brought its operatives across state lines to stop then-Vice President Al Gore's recount efforts."

The Lynne Stewart Case - When Representing an Accused Terrorist Can Mean the Lawyer Risks Jail, Too 10/12/02 Counterpunch

Bad Attitude Baraka 10/10/02 Weekly Standard, NJ: a fine example of the racist rant they accuse Baraka of - "As the law currently stands, not even the governor can fire Baraka. But this week, legislation was drafted to amend the law and allow Governor McGreevey (not exactly a right-wing zealot) to force him out. The governor's spokeswoman, Ellen Mellody, tells me that the legislation is "widely supported by both Republicans and Democrats" and that they are trying to expedite its passage. She also reminds me that McGreevey has already frozen the $10,000 stipend. We'll fight this," Baraka recently told the Star-Ledger. "We'll go to the Supreme Court. The only thing they'll do is put me in a position to defend the rights of poets and the First Amendment." Regarding the charges of anti-Semitism, Baraka is quick to point out other stanzas in "Somebody Blew Up America" that ask, "Who put the Jews in ovens" and later, "Who killed Rosa Luxembourg, Liebneckt" and "Who murdered the Rosenbergs." (In his subsequent statement defending his position, he continues to misspell Luxemburg and Karl Liebknecht's names.) Baraka insists that he does not accuse the Israeli government of plotting the attacks of September 11, but he says on his website: "I WAS NOT SAYING ISRAEL WAS RESPONSIBLE FOR THE ATTACK, BUT THAT THEY KNEW AND OUR OWN COUNTERFEIT PRESIDENT DID TOO!" … Even better, maybe he and that Nigerian businessman will be able to collect the frozen $48,000,000,000 USD."

Curious customs 10/9/02 Creative Loafing: "As a side effect to a recent upgrade to Georgia's criminal information network, federal agents who one might expect to be seeking out terrorists, drug smugglers and dangerous fugitives are suddenly in the business of apprehending grannies with overdue parking tickets and other minor scofflaws."

California's Hispanic Press Braces For War in Iraq 10/9/02 Pacific News: "Hispanics make up nearly a third of the population in the nation's most populous state, California. PNS contributor Marcelo Ballve examines the growing Spanish-language press across the state and finds a community fearful of anti-immigrant backlash should the United States go to war with Iraq."

The ADL Smear Campaign Against Me - I Will Not Resign, I Will Not Apologize - by AMIRI BARAKA 10/7/02 Counterpunch: ""Somebody Blew Up America!" was written Oct 1, 2001. A month after the terror attack. Almost immediately I circulated it around the world on the Internet. In addition, I have read this poem in Spain, Portugal, Africa, Switzerland, Italy, Finland and it was translated into German and read on German radio, at Universities and other venues across this country. It has become one of the most circulated of my poems. Yet it was not until I read the poem at the Dodge Poetry Festival that I got negative response from three people that I know of. The overwhelming response was an almost thunderous applause. I even had to come out and take a second bow at one performance. So why now and Who, as the poem asks, is behind it? Perhaps the forces which have dishonestly tried to characterize the poem as "venom" or merely "a harangue" (just as they called John Coltrane's music "Barbaric Yawps") are simply, the Charlie McCarthy voices for Bush & Sharon's Edgar Bergen's. Empty-headed devilish dummies constructed of wood and painted and costumed to look like it is real people speaking, when all the time it is imperialism is the ventriloquist speaking through their mouths, NO, I WILL NOT APOLOGIZE, I WILL NOT RESIGN. In fact I will continue to do what I have appointed to do but still have not been paid to do. Publicize and Popularize poetry and poets throughout this state. To set up new venues and new networks for poetry reading and workshops, in the state's libraries and schools and other institutions. Hopefully initiated and given paradigm right here in the Newark Public Library, its branches and throughout the school system. Therefore giving more of our citizens access to poetry, involving poets of all nationalities, both male and female, of diverse experience and styles. I have already begun to enlist coordinators of poetry programs throughout the state, so that we can network a tour of poets, hopefully beginning in January, throughout the state."

Anti-intimidation bid has some detractors 10/5/02 Boston Globe: "At least 15 New England college presidents have signed a statement pledging to keep their campuses ''intimidation-free,'' but the statement's explicit references to threats against Jewish students and supporters of Israel - without mentioning Muslims or other groups - have deterred the presidents of Tufts University, Boston College, and other schools from supporting it."

Possible Anti-Immigrant Killer(s) on the Loose 10/4/02 Aztlan: "Police authorities of Montgomery County have said that they presently have no clues as to who the killer or killers may be. Montgomery County, which is just north of Washington D.C., has recently experienced increased ethnic and racial conflicts because of its rapidly changing ethnic demographics. Police said race did not seem to be a motive. "We're across the board in genders and ethnic backgrounds," police spokeswoman Nancy Demme said. Unless more pictures are made available of the victims, La Voz de Aztlan is not buying it."

Citizens group plans to monitor the police 10/4/02 Houston Chronicle

U.S. Senate candidate in Missouri arrested at protest 10/4/02 Libertarian Party: "Tamara Millay, the LP candidate for U.S. Senate in Missouri, has been arrested for "obstructing a public thoroughfare" during an anti-war protest in St. Charles. On October 1, Millay and 38 other peaceful activists blocked the four exits from a local weapons plant, and refused to allow a shipment of Boeing cruise missiles to pass through. Many believe the missiles are being produced for an impending war against Iraq."

Jerry Falwell calls Islam's prophet a 'terrorist' 10/3/02 CNN: "Other conservative Protestant clergy have made sharply critical remarks about Islam and Muhammad in the past year. They include Franklin Graham, Billy Graham's son and successor, TV evangelist Pat Robertson and leaders in the Southern Baptist Convention. In response to Falwell's remarks, Ibrahim Hooper, spokesman for the Council on American-Islamic Relation in Washington, said: "Anybody is free to be a bigot if they want to. What really concerns us is the lack of reaction by mainstream religious and political leaders, who say nothing when these bigots voice these attacks." Hooper noted that Falwell and Robertson will speak at next week's Christian Coalition convention in Washington alongside House Majority Whip Tom DeLay and other politicians. "How can these elected representatives legitimize this kind of hate speech by appearing on the same platform with Islamophobes and Muslim-bashers?" Hooper asked."

Laureate: Poem not inspired by bigotry - Baraka denies anti-Semitism as legislators seek ouster 10/3/02 New Jersey Star Ledger: "New Jersey state Poet Laureate Amiri Baraka yesterday defended the poem that has prompted calls for his resignation, saying it was meant as an attack on imperialism, fascism and anti-Semitism -- not a bigoted attack as his critics have alleged. "It is a poem that aims to probe and disturb, but there is not any evidence of anti-Semitism," Baraka told a supportive crowd at the Newark Public Library. Gov. James E. McGreevey called for Baraka's resignation Friday after Jewish groups objected to a poem in which he asserts the Israeli government had advance knowledge of the World Trade Center attacks. McGreevey said he cannot fire Baraka because state law includes no mechanism for removing someone from the position, which was created in 1999. Yesterday, state legislators from both parties said they are looking at changing the law to make it possible for the Governor or the New Jersey Council for the Humanities to fire Baraka."

STATEMENT BY AMIRI BARAKA, NEW JERSEY POET LAUREATE 10/2/02 Amiri Baraka

Would-be assassin aims at Fred Hampton Jr. Another attempt to take Lil' Chairman off the streets 10/2/02 SF Bay View

Pro - Israel Web Site Causes Furor 9/29/02 AP: "A pro-Israel organization has set up a Web site to monitor professors and universities for pro-Arab, anti-Israel bias -- a move some academics are decrying as campus McCarthyism and attempted intimidation. The Philadelphia-based Middle East Forum said it organized the Campus Watch site to counter pervasive bias in universities' Middle Eastern studies."

U.S. Dominators Must Be Stopped 9/28/02 Black World Today: by Carl Dix - "Sisters and brothers, the U.S. government is feeding us a pack of lies about what it's doing to the people of the world. We're told these people are our enemies and we should fear them. We're told that we should back any moves the U.S. makes to gun them down and seize their countries. As a Black GI, I heard the same lies during the Vietnam War. I refused to murder Vietnamese for them, and they sent me to Leavenworth military prison for 2 years. We can't be intimidated or pressured to line up behind their war moves and wave their flag. It's time to say "hell no, we won't support your war without end!"

Professors want own names put on Mideast blacklist They hope to make it powerless 9/28/02 San Francisco Chronicle: "In an effort to counter what they label as a McCarthyesque hunt by a pro-Israel think tank, about 100 professors from across the country have asked to be added to a "Campus Watch" Web site that singled out eight professors because of their views on Palestine and Islam."

Donations To Israeli Military Are Tax-Deductible! 9/25/02 AntiWar.com: "In many cases, Americans can be prosecuted for giving money to foreign armies. As we have been told in the case of John Walker Lindh, Americans can give up their citizenship rights by joining a foreign army. But as with many things, there is an exception: Israel. Not only is it allowed to give money to the Israeli Defense Forces (IDF), it is actually a tax-deductible contribution under US tax laws." That they may better take us to Armageddon?

America's Saddam? 9/24/02 Counterpunch: "Congressman Bob Barr, R-Ga., has a coroner's photograph taken of one of the Davidian victims entitled "Doe #57." It is of a little girl around 5 or 6 years old, her charred body burned beyond recognition and twisted in the ghastly rictus contortion typical of subjection to hydrogen cyanide. There are few more monstrous crimes against humanity than torturing children to death in screaming pain, poison-gassing them to death on purpose. That the perpetrator of this crime wasn't tried and executed for mass homicide, but was instead lionized by the media, served out her term of office, and came close to being elected as the Democrat nominee for the governor of Florida says something very dark about human nature."

Doubts About Buffalo 9/24/02 Time: "But there are questions about the strength of the government's case. When the six suspects were hauled into federal court last week, the prosecution's request that bail be denied was met with considerable skepticism. "I haven't heard of any act of violence or propensity of violence in the history of these individuals," said U.S. Magistrate H. Kenneth Schroeder Jr. In fact, the 1996 antiterrorism statute being used to prosecute the suspects can be an unwieldy sword. The law, enacted in the wake of the Oklahoma City bombing, prohibits providing "material support" to terrorist groups. But some acts, such as providing "safe houses," are expressly forbidden, while giving "medicine" is specifically allowed. Is visiting a training camp illegal in itself? What's more, defense lawyers said a rifle cited as evidence was owned by a suspect's father, and an audiocassette tape extolling jihad was about the Afghan mujahedin's fight against the Soviets. Like much of the legal chapter in the war on terrorism, this case will not be easy." OK.

The Vigilante Thought Police 9/23/02 Counterpunch: "A Philadelphia-based pro-Israeli organization with the seemingly innocuous name, the Middle East Forum, began a website to monitor US college campuses for academic pro-Palestinian bias and happenings. Campus-Watch (http://www.campus-watch.org) publishes dossiers on professors, as well as some examples of their writings."

Hospital removes MD who tried to place Muslim students 9/22/02 Miami Herald: Hysterical waitress ruins the life of 3 interns and now a doctor.

Florida Muslim arrests were mistake 9/21/02 BBC: "Police originally said the three medical students, who are US citizens of Arab descent, had been overheard in a diner plotting an attack, before driving off at high speed through toll booths without paying. Now the authorities have admitted their conversation was not about terrorism and that CCTV footage has shown they did in fact stop and pay the toll."

On Campuses, Critics of Israel Fend Off a Label 9/21/02 Boston Globe: "When Massachusetts Institute of Technology professor Nancy Kanwisher helped launch a spring petition calling on Harvard and MIT to cut their financial ties to Israel, she saw it as a political protest against Israel's alleged violation of Palestinians' human rights. But in the months since she helped gather signatures on the two campuses, her effort has become the target of a much larger counterpetition - and, this week, a high-profile denunciation by Harvard president Lawrence H. Summers, who declared her group's actions ''anti-Semitic in effect, if not intent.'' After his stinging speech, divestment was once again in the spotlight, as students and faculty debated yesterday whether it is possible to protest Israel without evoking the grim legacy of anti-Semitism."

TV dots airwaves with inaccuracies 9/14/02 Miami Herald: "Television reporters were certainly connecting dots -- lots of dots, some of them seemingly from another planet -- but if journalism is about facts and not hype, then they definitely weren't doing what they were supposed to do. Friday's coverage was the source of a staggering amount of misinformation."

INSIDE THE NEW CAMP X-RAY 9/10/02 Mirror, UK: "The cramped cells, cut from steel shipping containers and even smaller than X-Ray's notorious cages, are collected in 10 blocks. Delta, surrounded by thick green netting to keep out prying eyes, is brightly lit by powerful arc lights 24 hours a day and the camp is ringed with seven wooden guard towers manned by sharpshooters. There are regular incidents when some prisoners go stir crazy, shouting and screaming as they climb and claw their cell walls in despair. But most of the time there is an eerie, pathetic silence. On our two visits to the camp there wasn't a sound and it was hard to believe there was any life behind the wire at all. Overhead, like extras in a bad movie, huge black turkey vultures lazily circled the parched landscape. The 30 who have tried to end their lives have taken desperate and pathetic measures. A few have used the plastic utensils issued with their meals to try and slash their wrists. Some repeatedly banged their heads against the metal wall in their cells or punched the walls in frustration. Other men suffer from insomnia which in turn makes them anxious and then depressed. A few pace their cells manically or pass the time doing endless press-ups. Extraordinarily, the military insist none of men's mental health has degenerated since being incarcerated in either camp and that all 37 had their psychiatric problems before being captured."

RIGHTS AND THE NEW REALITY - Congress, Courts: Step In 9/9/02 LA Times: "The most urgent need for attention comes on the legal front, where the cumulative effect of the Patriot Act has been to massively shift power from federal judges to investigators, putting innocent people at far greater risk of unwarranted government scrutiny, harassment or persecution."

The Troubling New Face of America 9/5/02 Washington Post: by Jimmy Carter - "Formerly admired almost universally as the preeminent champion of human rights, our country has become the foremost target of respected international organizations concerned about these basic principles of democratic life. We have ignored or condoned abuses in nations that support our anti-terrorism effort, while detaining American citizens as "enemy combatants," incarcerating them secretly and indefinitely without their being charged with any crime or having the right to legal counsel. This policy has been condemned by the federal courts, but the Justice Department seems adamant, and the issue is still in doubt. Several hundred captured Taliban soldiers remain imprisoned at Guantanamo Bay under the same circumstances, with the defense secretary declaring that they would not be released even if they were someday tried and found to be innocent. These actions are similar to those of abusive regimes that historically have been condemned by American presidents."

Authorities defend actions of air marshals who drew guns on plane 9/1/02 AP: white people do not like having guns drawn on them - "Lineberger, an Army veteran who had been visiting his son in Savannah, Ga., said he plans to file the complaint with the TSA on Tuesday, saying the air marshals overreacted. He said about 30 other passengers also planned to complain."

State Spending On Prisons Grows At 6 Times Rate Of Higher Education 9/1/02 Black World Today: "A new report shows that during the 1980s and 1990s, state spending on corrections grew at 6 times the rate of state spending on higher education, and by the close of the millennium, there were nearly a third more African American men in prison and jail than in universities or colleges."

TIPS Domestic Spy Network Goes Too Far For White America 8/30/02 Black World Today: "When the Bush administration announced the introduction of Operation TIPS, however, it may have crossed the line of what had been viewed as acceptable sacrifice of constitutional protections in the name of the war on terrorism. And one of those lines that the Bush administration may have inadvertently crossed, is to open the gated community of White America to the police state tactics which have long operated in communities with large Asian, Latino and Black populations."

Indications of Serious Flaws in a 9-11 FBI Flop - Spooky Goofs 8/28/02 Village Voice: "Last fall, after inventorying the rooms guests had fled on September 11 in a hotel directly across from the World Trade Center, a security guard reported finding a ground-to-air aviation radio locked in the safe of Egyptian student Abdallah Higazy. Higazy was called in, questioned, and thrown into solitary for a month. During an FBI lie detector test, he confessed. Then the radio's real owner, an American pilot, came forward to claim it. The security guard admitted he had lied. Higazy was released. Higazy's wrongful captivity had many bizarre moments, but the specter of possible FBI coercion in obtaining his false confession has overshadowed all. In fact, federal judge Jed Rakoff recently ordered a probe of the polygraphing. Yet a careful review of records unsealed by the judge—over vehement opposition from U.S. Attorney James Comey's office—shows the case was flawed from the beginning by investigative carelessness and assumption, problems never before fully revealed."

Washington Bends the Rules 8/27/02 NYT: "Despite the draconian dictates issuing almost daily from the Justice Department, it is not the watchdogs in Congress but the judiciary itself that is blowing the whistle. The most recent example came from the super-secret Foreign Intelligence Surveillance Court in the form of an extremely unusual open opinion — only the second in its quarter-century history. The judges of the court unanimously criticized federal agents for misleading the court in applications for secret eavesdropping warrants on 75 occasions during the Clinton administration (as of September 2000) and an unspecified additional number between September 2000 and March 2001. One request was even signed by F.B.I. director Louis J. Freeh… In the end, Kafka's Josef K. becomes so fatigued in his fight to find out why he was arrested that he just loses his will to resist. The release of the May 17 opinion (by the court's new presiding judge) to the Senate Judiciary Committee, and the committee's release of it to the public, can reasonably be seen as cries for help. The Justice Department has to understand that democratic oversight of law enforcement is not taken lightly by Congress or the American people, even in these threatening times."

August 22 Portland Bush Protest - Photos and Text 8/24/02 IndyMedia: the pigs doing their thing, again.

Crushing Congressional Dissent: The Fall of Hilliard, Barr and McKinney 8/22/02 Counterpunch: "Historians will one day write that the 107th Congress was the last to stand up to the constitutional encroachment by the military and monarchist policies of the Bush II administration. Just as with the Roman Senate, the Congress of the United States is becoming an elite club of pathetic assenters and global elitists. Once the domain of great orators and dissenters like Cato and Cicero, the Roman Senate was eventually subsumed by the Roman Army when the Emperor took on dictatorial powers. The Roman Senate could say nothing as the Roman dictatorship annexed Macedonia, Spain, Greece, the Middle East, and North Africa. By the time Emperors Tiberius and Septimius Severus took power, the Senate, which had grown to an elite club of 600, was a rubber stamp body that had no choice but to go along with the military's continued usurpation of power."

Secret Court Says F.B.I. Aides Misled Judges in 75 Cases 8/22/02 NYT: "The nation's secret intelligence court has identified more than 75 cases in which it says it was misled by the Federal Bureau of Investigation in documents in which the bureau attempted to justify its need for wiretaps and other electronic surveillance, according to the first of the court's rulings to be released publicly."

Georgia Voters Oust Two Incumbents 8/21/02 AP: McKinney out, pro-Likud money wins again - "With 99 percent of precincts reporting, Majette had 65,402 votes, or 58 percent; McKinney had 47,651 votes, or 42 percent… McKinney offered only tepid support for Majette in the general election, saying she "will need our prayers to face the coming storm." She also blamed her loss on "massive Republican crossover" voting, which is allowed under Georgia's open primary system."

From Cynthia McKinney to Katha Pollitt, to the ILWU to Paul Krugman 8/21/02 Counterpunch

AIDS Groups Feel Heat After Demonstration - Federal Funding Probe Follows Barcelona Protest Against U.S. Health Secretary 8/19/02 Washington Post: "The Department of Health and Human Services is reviewing the federal government's financial support of more than a dozen prominent AIDS service organizations whose members joined in a noisy demonstration against Health and Human Services Secretary Tommy Thompson at last month's international AIDS conference in Barcelona, Spain. HHS officials said they had launched the reviews at the request of 12 members of Congress who also said they were upset by the absence of religious themes at the meeting. While it remains unclear what the outcome of the audits might be, their existence has produced a level of suspicion and mistrust between AIDS activists and government officials not seen in years."

Bush accused over security plans 8/16/02 BBC: "President George W Bush is seeking "dictatorial powers" in his efforts to combat future terrorist threats, the Democrats' leader in the Senate, Tom Daschle, has said."

Detained Colorado native virtually inaccessible 8/15/02 Nando Times

Camps for Citizens: Ashcroft's Hellish Vision 8/14/02 LA Times: "The camp plan was forged at an optimistic time for Ashcroft's small inner circle, which has been carefully watching two test cases to see whether this vision could become a reality. The cases of Jose Padilla and Yaser Esam Hamdi will determine whether U.S. citizens can be held without charges and subject to the arbitrary and unchecked authority of the government. Hamdi has been held without charge even though the facts of his case are virtually identical to those in the case of John Walker Lindh. Both Hamdi and Lindh were captured in Afghanistan as foot soldiers in Taliban units. Yet Lindh was given a lawyer and a trial, while Hamdi rots in a floating Navy brig in Norfolk, Va." It is in perfect accordance with the general practice of the US government that Lindh is white and these two are not.

Officials Downplay Terror Suspect 8/13/02 Washington Post: showing up Ashcroft: "An American touted by Attorney General John Ashcroft as a significant terrorism figure with plans to detonate a radioactive bomb is probably a "small fish" with no ties to al-Qaida cell members in the United States, law enforcement officials say. The FBI's investigation has produced no evidence that Jose Padilla had begun preparations for an attack and little reason to believe he had any support from al-Qaida to direct such a plot, said one of the officials, speaking on condition of anonymity."

McKinney Challenger Levels Financial Playing Field 8/12/02 Roll Call: "State Judge Denise Majette raised more than six times as much as Rep. Cynthia McKinney (D-Ga.) last month, according to new reports filed with the Federal Election Commission, closing what had been a huge gap in resources. The financial mismatch was by far the most striking among House campaigns in the Peach State, although most of the other competitive Aug. 20 primaries in the state are open seat races… Both campaigns, however, have received PAC contributions from organizations aligned with each side of the Palestinian-Israeli conflict. Many of the same political action committees that supported Davis have given money to Majette, while McKinney has received contributions from similar interest groups that backed Hilliard, such as the Arab American Leadership PAC." This is as close as the report comes to identifying the pro-Israel lobby as the funding source.

Bush's snoopers plan hits backlash 8/12/02 Sydney Morning Herald: "The Bush Administration, backing away from a controversial anti-terrorism plan in the face of a public backlash, says it will no longer solicit terrorism tips from utility workers, postal employees and anyone else with access to people's homes. That pledge scales back President George Bush's recently unveiled plan to set up a national network of domestic tipsters from within the workforce. The Administration still plans to enlist workers as part of Operation Tips, but officials have decided that workers with access to homes and private property will not be authorised to use the special, non-published tipster hotline, Justice Department officials said."

McKinney Battles For Her Political Life 8/7/02 Black World Today

When Neighbors Attack! 8/6/02 Dave Lindorff: "Volunteers for Operation TIPS, John Ashcroft's citizen spy army, are being steered to the Fox crime show "America's Most Wanted." Is the merger of tabloid TV with the federal snooping operation funny or scary or both?"

First Critique By The Conservative Movement of the War on Terrorism 8/5/02 Free Congress: "If the ultimate goal of the strategy is to prevent or at least minimize attacks such as those of September 11th on America and Americans, going to war with virtually all non-state military entities in the world is the worst imaginable way to go about it," writes Lind.

McKinney behind in poll despite Arab-American, Muslim support 8/3/02 Arab News: "A newly released poll has revealed that US Congresswoman Cynthia McKinney is behind her challenger, Denise Majette, 39 percent to 41 percent, in their nationally followed race for Congress. Less than three weeks remain until the Aug. 20 primary election… Former State Judge Denise Majette, McKinney's rival, is partially being financed by Jewish leaders critical of McKinney's stand on Israel. Majette has announced she plans to spend $500,000 in contributions she has received in the next three weeks. Members of the Muslim American community, meanwhile, have rallied to support McKinney. At least three-quarters of the $234,299 that McKinney has raised from individuals this year is from donors with Muslim or Arab-American surnames, many who live outside her district."

Some McKinney donors probed for terror ties 8/3/02 Atlanta Journal Constitution: "McKinney campaign coordinator Wendell Muhamad downplayed the FBI investigations of the donors, saying the agency historically has hounded minorities and is now targeting Muslims and people with Arab names. "They're doing stuff like they did in the '60s to Dr. [Martin Luther] King," said Muhamad. "These are American citizens learning to use their money like the very small population which sways a lot of opinion with their money -- the Jewish community. That's the American way." Banks said the campaign accepted contributors' money believing "in good faith that they are law-abiding citizens. If you did an investigation of everyone who gave money, people would stop giving."

Patriotism vs. protest 7/31/02 Christian Science Monitor: "I'm just an American boy raised on MTV/ and I've seen all those kids in the soda pop ads/ but none of 'em looked like me," and ends: "Now they're dragging me back/ with my head in a sack/ to the land of infidel."

Ashcroft vows no database for citizens' tips 7/26/02 IHT: he also wants to sell you a bridge in Brooklyn.

Denver mayor rejects panel's findings to destroy secret police files 7/26/02 The Reporters Committee for Freedom of the Press: "Denver Mayor Wellington Webb said July 22 that he will not follow an independent panel's recommendation to destroy within 60 days surveillance files that police have collected on peaceful protestors since 1954. Webb commissioned the panel, composed of three retired judges, after the American Civil Liberties Union of Colorado wrote to him in March that it had "obtained documents that demonstrate that the Denver Police Department is monitoring and recording the peaceful protest activities of Denver-area residents and keeping files on the expressive activities of law-abiding advocacy organization."

United States loses fight to block U.N. vote on torture convention 7/25/02 AP: "Among U.S. concerns was language that could allow for international and independent visits to U.S. prisons and to terror suspects being held by the U.S. military at Guantanamo Bay Naval Base in Cuba. Such visits are unlikely unless the United States chooses to adopt the plan, known as a protocol, which seeks to enforce the 1989 treaty against torture."

War on Terrorism or Police State? 7/25/02 Counterpunch: "In a period of two months, recently declassified documents on Operation Lantern Spike indicate that 240 military personnel were assigned in the two months of March and April to conduct surveillance on Dr. King. The documents further reveal that 16,900 man-hours were spent on this assignment. Dr. King had done nothing more than call for black suffrage, an end to black poverty, and an end to the Vietnam War."

Granting Police Powers to Military Called 'Terrible Idea' 7/22/02 CNS: "But Healy, an attorney and policy analyst with Cato, thinks having the military performing civilian law enforcement duties would be a "disaster." "I think it's a terrible idea. Soldiers are trained to shoot to kill. Civilian police officers, ideally are trained to use force as a last resort," said Healy."

Forbidden Truth - The Sellouts in the Fourth Estate 7/22/02 Counterpunch: "So the media elite, in some perverted and confused quest to show its loyalty to the Bush family, has decided that linking its policies in Afghanistan and the Middle east to its past oil dealings, is somehow off the mark, "out there," unworthy of consideration. Reconstructed liberal and progressive journalists throw around the "C word" (conspiracy) to detract from those who write about the massive evidence that points to the Bushes having traded the nation's economic well-being and national security for personal profit. Grandfather Bush, Prescott, certainly did this during World War II when his investments included companies that supported Nazi Germany's war effort."

Why are the CIA & FBI Targeting Me? 7/22/02 Counterpunch: human rights workers target of right wing death squads and the CIA/FBI in the US.

Little Support For TIPS 7/21/02 Newsday: ""It's going to be overused and abused, especially with people so nervous as it is," said Freeman, 45, who hauls produce cross-country. "You're going to have people running every which way looking for terrorists and their 15 minutes of glory."

Justice Dept. forges ahead with TIPS, despite Armey ban 7/21/02 St Louis Post Dispatch: "The Justice Department is forging ahead with establishing a network of domestic tipsters_despite being dealt what may be a deathly blow to the plan: House Majority Leader Dick Armey, R-Texas, inserted last week a ban on the program in the bill to form a new Homeland Security Department."

President doesn't have absolute military authority over Americans 7/21/02 St Petersburg Times: "No citizen shall be imprisoned or otherwise detained by the United States except pursuant to an Act of Congress. Congress passed this law in 1971 in response to concerns the executive branch could overstep its authority during a national emergency and hold, without charge, Americans deemed dangerous or disloyal. So why are two Americans in that very predicament today?"

Arabs in U.S. could be held, official warns 7/20/02 Detroit Free Press: "A member of the U.S. Civil Rights Commission said in Detroit on Friday he could foresee a scenario in which the public would demand internment camps for ArabAmericans if Arab terrorists strike again in this country. If there's a future terrorist attack in America "and they come from the same ethnic group that attacked the World Trade Center, you can forget about civil rights," commission member Peter Kirsanow said."

Indians not amused by U.S. detention of a movie star as terror suspect 7/20/02 IHT: "Verma's detainment, which lasted nearly five hours, caused frenzy in the press in India and much consternation from Indians in the United States. "We are concerned," said Sunil Lal, the press relations counselor at the Indian Embassy in Washington. "These things should not happen."

FBI Targets Black Muslims in Anti-Terrorist Watch 7/20/02 LA Times: "a federal investigation of a possible terrorist cell in the Pacific Northwest is focusing on a group of African American converts to Islam, possibly opening a new chapter in the domestic war on terrorism. Across the nation, court papers suggest that FBI anxiety about radical African American Muslims has reemerged in the last decade as the bureau has concentrated on Islamic terrorism."

Evidence Against Suspect From 9/11 Is Called Weak 7/20/02 NYT: "Since December, when the government indicted Zacarias Moussaoui as the first man charged in the Sept. 11 attacks, an unusual gulf has opened between what prosecutors have charged in court and what investigators are saying privately about what they can prove about him."

Postal officials change stance on Operation TIPS 7/18/02 CNN: "In a shift from its position 24 hours earlier, the U.S. Postal Service said Thursday it had decided to meet with the Justice Department to discuss Operation TIPS, a government plan to encourage U.S. postal workers to report suspicious activity as part of the government's war on terrorism."

Judge: Gov't Must Explain Why It Is Holding American-Born Prisoner 7/18/02 Fox News: "A judge Thursday ordered the U.S. government to explain within a week why it is holding prisoner an American-born man who was captured with Taliban fighters in Afghanistan. The judge also directed the government to spell out with whom the United States is fighting its war on terrorism."

ONE MILLION BUSYBODIES - The govt's TIPS program means an army of citizen-informers 7/17/02 Antiwar

Arrest Cameraman Pleads Innocent 7/17/02 AP: punished for filming a police beating

Postal Service Won't Join TIPS Program 7/17/02 AP: "The Postal Service has decided not to take part in a government program touted as a tip service for authorities concerned with terrorism, but which is being assailed as a scheme to cast ordinary Americans as "peeping Toms."

Ex-U.S. officials warn that U.S. policies threaten repression 7/16/02 AP: "Former Secretary of State Warren Christopher and former FBI and CIA chief William Webster challenged administration policies dealing with terrorism suspects Tuesday, and Christopher warned that secrecy threatens to lead America down a path to repression... In a panel discussion of national security and civil rights, Christopher raised the specter of the kind of repression once common in Argentina."

Magazine accuses State of intimidation 7/16/02 Washington Times: "The editor of the National Review [a conservative paper] yesterday protested the State Department's treatment of one of its reporters who discussed a classified cable, whose contents had been published in both the National Review and The Washington Post, from the U.S. ambassador to Saudi Arabia during an on-camera briefing Friday."

Planned volunteer-informant corps elicits '1984' fears 7/16/02 Washington Times

House OKs life sentences for hackers 7/15/02 CNET

US planning to recruit one in 24 Americans as citizen spies 7/15/02 Sydney Morning Herald: truly frightening in its implications - as anyone who survived the Nazi occupation of Europe or who has studied informant systems knows, they are rife with get even and get rich schemes.

Citizens' Corp 7/15/02 US Government: "Operation TIPS - the Terrorism Information and Prevention System - will be a nationwide program giving millions of American truckers, letter carriers, train conductors, ship captains, utility employees, and others a formal way to report suspicious terrorist activity. Operation TIPS, a project of the U.S. Department of Justice, will begin as a pilot program in 10 cities that will be selected."

Ex-radical held in 1971 killing of cop 7/14/02 Atlanta Journal Constitution: "The Black Liberation Army was a disciplined but loose-knit cluster of cells claiming to fight racial oppression by killing cops. The small but heavily armed group began operating around 1970, was smashed in shootouts and sputtered out in the early 1980s with the imprisonment of its top remaining members."

Al-Neda Website Archive 7/12/02 Cryptome: "The real Alneda site was at Alneda.com not Al-neda.com, MY site I have put up in conjunction with federal authorities in hopes of intercepting confused communication intended for the actual "Alneda" site formerly at drasat.com."

Seattle militants investigated for possible ties to al-Qaida 7/12/02 Seattle Times: "The Seattle investigation has focused on some members, both African Americans and whites, of the now-defunct Dar-us-Salaam mosque in Seattle's Central Area. Federal agents have identified at least a half-dozen core members of the purported cell but have gathered information on more than 100 others who had dealings with radicals at the Seattle mosque."

A Houston man on trial for taking photos of police from his own yard 7/11/02 KHOU, Houston: "According to testimony, Ibarra never interfered with the search warrant scene and never left his own property."

Passenger who made comment about pilots' sobriety escorted off plane 7/9/02 AP

Jackson raps Bush, Ashcroft 7/9/02 Washington Times: from the pages of the Rev Moon's paper - "The Rev. Jesse Jackson yesterday called President Bush and Attorney General John Ashcroft "the most threatening combination in our lifetime," at the 93rd annual convention of the National Association for the Advancement of Colored People."

U.S. sweeps mall kiosks, hunting for terror clues 7/8/02 Philadelphia Inquirer: ""I've talked to the INS agents," Rambana said. "I've seen their paperwork. It's a fishing expedition. It's 'Let's see what we come up with.' " Across the country, media reports suggest that at least 32 foreign nationals have been detained: 19 in Atlanta, five in North Carolina, seven in Florida, and one in Pittsburgh."

Serpico Decries Anti-Terror Measures 7/6/02 Washington Post: "Frank Serpico, the whistle-blowing ex-New York City cop, criticized the government's anti-terrorism measures at a July Fourth reading of the Declaration of Independence. "It is my opinion that never before have we, as a nation, stood in greater danger of losing our individual liberties as we are today," he said. "We, the people of this great nation, are being punished for the transgressions of our leaders and their consorts."

Patriotism becomes nasty campaign issue 7/5/02 Christian Science Monitor: "So in the days following Sept. 11, Ms. Sumers posted a message on a website for Americans in Afghanistan, expressing horror at the attacks but also decrying the dangers of "jingoistic 'patriotism'" in the US. That was all it took for her opponent, Republican Scott Garrett, to label her "radical" and "anti-American."

Ga. Primary Raising Specter Of Latest Black-Jewish Feud 7/5/02 Forward: "What Aipac needs to realize is that the CBC views this an as attack on them," said one caucus member, who hinted that Aipac could "lose some votes" from caucus members."

Democrats with an eye on 2004 step up criticism of terror war 7/5/02 Navy Times: "She noted the primary map contributes to that approach by potential candidates, with voters in Iowa and New Hampshire — especially Democratic women — more susceptible to arguments against the war. The primary calendar then leads them to South Carolina, where black voters — who also have expressed concerns — are a key group."

America creates its own terrors 7/4/02 USA Today: "Lost in the cacophony of military music, flying the red, white and blue and the patriotic rhetoric that marked the celebration of Independence Day and surrounds the war on terrorism is democracy's most wonderful and critical aspect: the right to dissent. Since Sept. 11, it's as if we've been terrified, not only by the terrorists, but also by an American government that demands silent acquiescence to whatever it proposes to do as part of its vague and thus far ineffective "war on terrorism."

Al-Qaeda Website - Alneda - Shut Down By The Americans 7/3/02 Azzam: "The US have extended their War against Islam to the Internet. The US government have shut down an Al-Qaeda representative website 'Alneda'. This being another nail in the coffin of the much vaunted and cherished American Ideal of 'Freespeech'. "

Cops, FBI lied about probe, juror says Woman speaks out on Earth First trial after gag order lifted 7/3/02 San Francisco Chronicle: "The FBI and Oakland (police) sat up there and lied about their investigation," said juror Mary Nunn of Oakley. "They messed up their investigation, and they had to lie again and again to try to cover up. I'm surprised that they seriously expected anyone would believe them."

Frederick Douglass: A legacy for our times 7/3/02 SF Bay View: "This year's celebration of the 4th of July marks the 150th anniversary of Frederick Douglass' presentation at the Rochester Ladies' Anti-Slavery Society, "What to the Slave is the Fourth of July?" Douglass used the occasion to expose the full shame and treachery of slavery and in unmitigated terms castigated the nation's pieties, in particular the cherished memories of its revolution, its principles of liberty and its moral and religious ethos."

Patriot Revolution? 7/1/02 ABC News: "Cities across the country have been quietly staging a revolt against the USA Patriot Act, saying it gives law enforcement too much power and threatens civil rights."

The alleged patriots who want to do a replay of the 50's need to consider that one of the roots of Al Qaeda was a Saudi dissident movement that turned violent in House Saud's torture cells in the early 90's.
Suppressing Dissent Archives:


1984, the good old days ...