AfroCuban All Stars and the Creole Choir of Cuba in the US, Elio Revé Jr y su Charangon in Europe. See the Music page.
Hurricane Sandy relief - Nelson Da Costa and the Anton Makarenko School, Pinar del Rio, Cuba. Benefit to be held 3/20/13 in Boston, MA
African Roots of Cuba - Afro-Cuban Women in Literature, Media and the Arts: travel to Cuba with writer Pedro Perez-Sarduy, June 1- 8, 2013
"La Habana tiene su Son", 2/15/13. Libro de la historia del Septeto Nacional Ignacio Piñeiro por Roberto Oropesa. Se presentará el miércoles 20 de febrero a las 5:00 p.m., en la Habana, junto con la actuación en vivo de los actuales integrantes del Septeto Nacional Ignacio Piñeiro.

"Calabar Mgbè" Revista Internacional 4-1-2013 (No 9): Ítia Kaníma Séne: El Abakuá en Cárdenas. 28-01-2013 (No.10): La institución Abakuá y la familia Cubana.
The Samaná Americans: African Americans in the Dominican Republic since 1824, 1/13
Elio Rodriguez: Pumps Project."Selva en las Paredes." Centro de Cultura Contemporánea, Las Cigarreras. Alicante, Spain, desde el 21/12/12
Reggaeton vs. Nueva Trova 12/21/2012 Havana Times: "... in Ciego de Avila Province, where people were supposed to celebrate a concert marking the 45th anniversary of Nueva Trova. The young trova singers who were featured there got a nasty surprise when they saw the supposed audience — composed of younger people and teens — force them to cancel the concert with their repeated and upsetting manner of asking that those trova tunes be replaced by the now omniscient rhythms of reggaeton."
Desde la Ceiba, Cofradía de la Negritud, 23 de noviembre, 2012
- Carta de Emilio Roig de Leuchsenring al Ministro de Obras Públicas, 1943
- Historia y tradición oral en los sucesos del 27 de noviembre de 1871
por Tato Quiñones
- Los ñáñigos y los sucesos del 27 de noviembre de 1871: Memoria histórica, dinámicas populares y proyecto socialista en Cuba por Mario G. Castillo Santana
- Invitación del Grupo Anamuto para celebrar el 27 de noviembre
Sandy´s trail of death and destruction, 11/26/12 An appeal for aid, Caribbean American Children Foundation, 501c3. Alberto Jones. La senda de destrucción y muerte de Sandy, 26 de Octubre del año 2012. Un llamamiento de ayuda, Fundación Caribeña Americana de los Niños, 501c3. Alberto Jones.
Pedro Ivonnet: pasión y muerte de un protestante del 12, Lic. Raúl Ramos Cárdenas, Investigador del Archivo Nacional de Cuba, 11/12
¿Qué Volá con el Reguetón? Desde la Ceiba, 1/10/12
Los Independientes de Color, a cien años de la masacre por Guillermo Rodríguez Rivera, Desde la Ceiba, 26/9/12
Homenaje a Rogelio Martínez Furé: 22 de septiembre 2012, Matanzas, Cuba, frente a la casa donde nació: galeria de fotos, photo gallery
Entrevista con Rogelio Martínez Furé: Siempre puente, nunca frontera 9/22/2012 Juventud Rebelde
Descargas: ritual y fiestas de la palabra, 8/25/12, Rogelio Martínez Furé
Cimarrón de palabras, "descargas", poesia de Rogelio Martínez Furé, 2010, (PDF, 1.7MB). Introduccion de Inés María Martiatu Terry: El aché de la palabra.

Born in Cuba of a Cuban father and a Jamaican mother, Mortimo Planno was a founder of Rastafarianism and a teacher of Bob Marley. He is the author of THE EARTH MOST STRANGEST MAN - THE RASTAFARIAN. 8/12
Cuban Filmmakers at the Flaherty, Part 1: Gloria Rolando Three filmmakers participate in weeklong international documentary seminar 7/10/2012 Cuban Art News. See also Gloria Rolando.
Report on the 2012 Násàkó Festival, ties with Cubans approved, 6/12 Informe sobre el Festival Násàkó, 6/12, vínculos con los cubanos aprobados. The founders of Ékpè/Abakuá gather / Los fundadores de Ékpè/Abakuá se reunen.
The Násàkó Family's Kebulu Felix Lenya on Africa - Cuba ties, May 2, 2012. Kebulu Felix Lenya, de la familia Násàkó, sobre las relaciones Africa - Cuba, 2 de mayo, 2012
PazConRumba, 30/6/12, consagrada a Tata Güines, Plaza, la Habana

Eduardo Roca Salazar (Choco) exhibit in Cambridge, MA - May to August 31, 2012
Aerosol Kingdom: Subway Painters of New York City by Ivor L. Miller, back in print, 5/12
Bongo Ita : leopard society music and language in West Africa, Western Cuba, and New York City 1/15/2012 African and Black Diaspora, by Ivor Miller

History of African responses to Abakuá, 1/12
Book Launch, Nigerian Edition of Voice of the Leopard: African Secret Societies and Cuba, 7/9/11: raising consciousness around the Abakuá and Ékpè
Algunas notas sobre raza y narrativas femeninas. El que más mira menos ve 8/7/2011 Negra Cubana

Fight to keep Cuban American travel. The Plantocracy seeks to maintain its stranglehold with a new bill to throttle travel, 7/6/11
Hablando con Evaristo Estenoz, 6/2011, Raúl Ramos Cárdenas hace el resacate de una entrevista con Evaristo Estenoz, el presidente y fundador del Partido Independiente de Color, en 1910.
IV Coloquio sobre religiones afroamericanas - Dedicado a la influencia cultural de las sociedades EKPE de Nigeria, en la conformación de las sociedades religiosas de socorro y ayuda mutuas Abakuá en Cuba, 25 -27 Mayo 2011 - La Habana (Cuba)
15 Taller de Antropologia Social y Cultural Afroamericana Opus Habana, 1-7-2011
Al rescate de figuras afrodescendientes 5/21/2011 IPS: "Activistas vinculados al estudio y promoción de los temas raciales en Cuba rindieron homenaje a varias figuras históricas afrodescendientes."
Dos libros nuevos de Frank Cabrera, 2011: 1) Ilé Tüntun, la Nueva Tierra Sagrada, 256 Oddunes de Ifá 2) Ilé Tüntun, Tierra Nueva, de Frank Cabrera, 2011
Reportaje Cultural 20/02/11 - II Taller Municipal de Tradición e Identidad, Santa Isabel de Las Lajas, Cienfuegos, 18 y 19 de febrero de 2011 por el Profesor Manuel Rivero Glean
Prof Manuel Rivero Glean: Reportaje Cultural: Casa de Africa, 5 - 9 de enero de 2011, 15 Taller de Antropologia Social y Cultural Afroamericana
Boletínes Imagen Afrohispana Express
Boletín Express 12- 2010: Alexis Esquivel, Afran, II Congreso Internacional de Estudios Literarios Hispanoafricanos
Boletín Express 11- 2010: Gorsy Edú es el percusionista
Boletín Express 10- 2010: I Coloquio "Asociacionismo, un camino para el fortalecimiento del colectivo negro en España", organizado por el Alto Consejo de Comunidades Negras en España
Boletín Express 9- 2010: Grupo de teatro Bocamanja
Chief Eteng TaTa Ikpi, Iyamba Ekpe, Nigeria, reviews Ivor Miller's Voice of the Leopard on Calabar - Cuba, 11/25/2010
La poeta
Georgina Herrera
nos da dos ensayos: Gritar un poco: 1912, Voces para un silencio, La Habana, 11/8/2010, y Las amarras de la memoria, 20/2/2010
New reviews of Voice of the Leopard on the relationship between Ékpè in Calabar and the Abakuá in Cuba, 9/10. Includes review by the well known Nigerian historian, Dr. Toyin Falola.
He came, he saw, he savoured. Daily Sun, Nigeria, 7/15/10: the story of Marcos David Ostrander Moreford, omo Olokun of Nigerian, Cuban, English and Panamanian ancestry who returns to Calabar to seek his roots. His Cuban great-grandfather was initiated into Abakuá and participated in the struggle against Spain.
Reseñas de libros: Esteban Morales Domínguez. 2007. Desafíos de la problemática racial en Cuba. Por Pedro Pérez Sarduy, 7/1/2010
Cuba Calabar Radio - web radio from Calabar, Nigeria on the links between the Cuban Abakwá and the Ékpè in Calabar.
Boletínes Express de Cultura Afrohispana, numeros 4, 5, 6, 7, y 8 de 2010: I Convención Nacional Juventud Negra, Madrid, Comedia de situacion en Guinee Equatorial. Trabajos de Tony Romero y su equipo.
Reportaje Cultural: XI Conferencia Internacional Cultura Africana y Afroamericana, Santiago de Cuba, 12 al 16 de abril de 2010, del professor Manuel Rivero, Escuela de Altos Estudios de Hotelería y Turismo, Miembro del Comité Cubano de la Ruta Internacional del Esclavo de la UNESCO
Sample from Cordones-Cook's video Nancy Morejón: Paisajes célebres / Nancy Morejón: Famous Landscapes, 2010
Queloides: la cicatriz renovada del racismo en Cuba, Alejandro de la Fuente, 4/10
Dr. Ivor Miller is interviewed on Cross River TV, 4/14/10: Dr. Miller talks with Mrs Offiong Ani Offiong about Ekpé traditions preserved in Cuba for over 200 years and the way in which these traditions have been faithfully preserved by Abakua members from lodges in Havana and Matanzas.
Reportaje Cultural: Taller Municipal de Tradición e Identidad, Benny Moré y el Cabildo Congo San Antonio,, Santa Isabel de Las Lajas, Cienfuegos, febrero de 2010, del professor Manuel Rivero, Escuela de Altos Estudios de Hotelería y Turismo, Miembro del Comité Cubano de la Ruta Internacional del Esclavo de la UNESCO
Author and poet Pedro Pérez-Sarduy just completed a tour in the US, Mar-Apr 2010. The focus was on race & identity in Cuba and on AfroCubans in the arts. Fresh from Princeton, he presented at Harvard on March 30 & 31st, 2010, where he launched the English version of the Maids of Havana.
Gordillo page featuring Kongo Cruzado: Cuban Lukumi and Kongo Identities in the Art of Francisco "Gordillo" Arredondo by Ivor Miller, 9/16/2006. AfroCubaWeb is holding 11 of his paintings for sale, see his Gallery.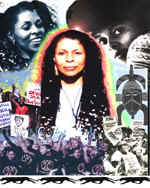 Assata Shakur poster with Askia Touré's poem "Palenque Queen by Habana's Shores" now available, as are some books by Askia.