Maceo - Martí: why did so many images of Antonio Maceo disappear after the Revolution?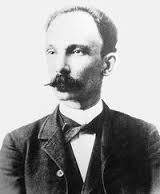 Ask anyone who remembers the times before the Revolution in 1959. Schools, government offices, factories, workplaces, parks - many places had framed images or statues of Antonio Maceo and José Martí together, celebrating the War of Independence, which was also called Maceo's War. The Bronze Titan, as Maceo was known, was the Mambi Army's most famous general, the architect of the victory that was snatched away after his death. The Plantocracy elites called in the Americans to fight the Spanish as the Mambi Army was over 85% of African descent and they were afraid for their position in a country that might give these veterans any power. The Plantocracy carried out the 1912 Massacre in support of that same goal, to deny AfroCuban veterans their fair share.
Martí was the US based fundraiser who came into Cuba late, against Maceo's advice. Maceo told him he had no experience in fighting and would get himself killed early on - which he did. Maceo had advised him to return to his important role of raising funds. During their correspondance, Martí always had a great reverence towards Maceo and, unlike the Plantocracy leaders, genuinely wanted to end racial divisions in Cuba.
It was during the first decades of the 1900's that Cuban intellectuals collected the far flung writings of José Martí and turned him into a national hero. It was not until 1922 that it was decreed that all towns needed to have a bust, statue, obelisk, bronze plaque or some commenoration of Martí. At some point, each town had to have a main street named after Martí and another one named after Maceo. It is unclear when the image of Maceo was placed alongside that of Martí.
Some time after the 1959 Revolution, perhaps in the early 60's, in many places where the image of both Maceo and Martí had been, the image of Maceo was quietly removed. Ask the elders, sometimes they say, "Yes, I knew that, but I had not really thought about it until you asked me." In December of 1962, Che Guevara made a speech, "Tribute to Antonio Maceo," so it would seem he was not a party to the removal. Fidel Castro was always respectful of Maceo and cited him throughout his life as can be seen in Antonio Maceo en el discurso político de Fidel 6/13/2016 Granma. The same is also true of Raul Castro as even a brief review of his speeches will demonstrate. Some may find it difficult that these revolutionary leaders did not know of the removals, but leaders do not always know everything that is happening at lower levels, that is normal. It is also consistent with Eugene Godfried's analysis that Fidel and Raul were antiracist while some of their aids and advisors were not.
So far, witnesses say this happened in various parts of the island -- Oriente, Matanzas, la Habana. It did not happen in Tampa, Florida, where the Sociedad La Union Martí-Maceo keeps the spirit of this alliance alive and still has both images in tiles on their wall.
It remains to be clarified precisely when and how this occured and whether it was across the entire island.
It may be this inexcusable removal had to do with the fact that Maceo's grandson, a physician named Antonio Maceo y Mackle, worked for the CIA and attended to the Brigade 2506 which fought the Cubans in the Bay of Pigs. Even if that were the case, the removal of the "Black Liberator" remains as a sign of weakness and petty mindedness.
-- Andy Petit, 5/14/13

Antonio Maceo descendant in the CIA - Antonio Maceo y Mackle
On July 11, 1960, Maceo moved to Miami, Florida. Between 1961 and 1963 he was a member of the Consejo Revolucionario Cubano. He also participated in a program of rehabilitation of the sick and injured members of Brigade 2506 offered by the Dade County Medical Association. Maceo appeared regularly in a radio program aired in Cuba and Latin America called "El Medico y usted" (The Doctor and You). In 1963, he began to offer his medical services to the Department of Public Health of Dade County, and in 1971, to the Center of Cuban refugees. From 1976 to 1984, Maceo was in charge of infectious diseases in the Department of Public Health of Dade County. -- Collection CHC0307 - Antonio Maceo y Mackle Papers



José Martí leading the Mambi Army, all by himself on a white horse
José Martí liderando los Mambises, solo y sobre un caballo blanco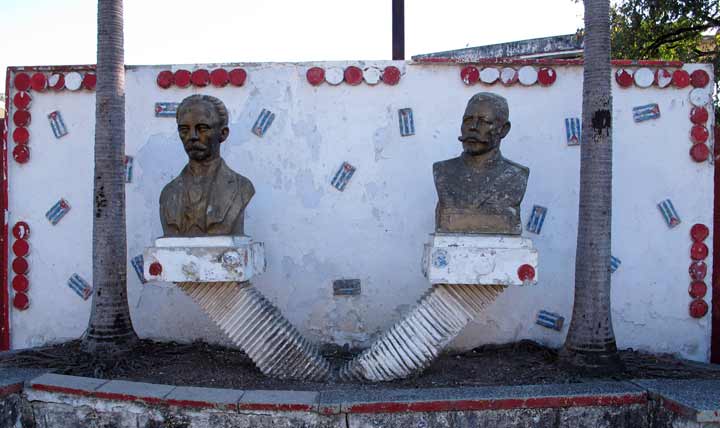 Rare monument from 1959 with both Marti on the left and Maceo on the right - there are quotes in the same cement work
by Maceo and Camilo Cienfuegos. Barrio Luyano, San Miguel de Padrón, Havana, which was Camilo's home town.
Clave a Maceo


por Sindo Garay, despues del 1912

Pobre Cuba, Señor, pobre Cuba. . .
Tus montañas y praderas, y praderas.
Qué se hicieron de los hombres
que en tus campos sucumbieron ?
Esos, nunca volverán.

Si Maceo volviera a vivir
y a su Patria otra vez contemplara,
de seguro la vergüenza lo matara,
o el cubano se arreglara
o él volviera a morir. . .
On the other hand, the following image might well have cheered Maceo up. Che was known to speak highly of Maceo and is featured along side him in this poster: