| | | |
| --- | --- | --- |
| | AfroCubaWeb | |
Oscar M. Valdés
Director of photography, camera operator, photographer,

Oscar was Director of Photography for the acclaimed film Reembarque, directed by Gloria Rolando.

CV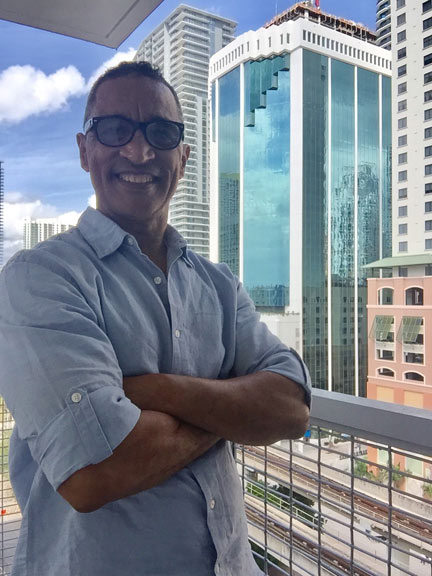 201-658-4250 / camaraicaic.4250_AT_gmail.com [_AT_ = @]

CAREER SUMMARY: Motivated and professional individual with over 20 years of experience in film-making and film photography as Director of Photography in featured films and documentaries, and as camera man in various cinematographic projects in Cuba. Seeking a position where I can apply my knowledge and creativity in film making and photography and expand on this knowledge.

PROFESSIONAL SKILLS

- Creative use of light and camera - Production experience
- Creative and technical skills - Strong technical troubleshooting skills
- Good artistic eye for photography - Excellent interpersonal skills
- Handling professional video and picture equipment - Fluent in Spanish

WORK EXPERIENCE

Cuban Institute of Art and Cinematographic Industries 1988-2014
Camera Operator/Director of Photography
➢ Met shooting, editing and production deadlines
➢ Worked with Production Director to put together the elements of films and/or documentaries.
➢ Used creative lighting, camera and audio techniques to enhance and develop story lines and documentaries.

Cuban Institute of Arts and Cinematographic Industries 1981
Camera Assistant

RELEVANT WORK

FEATURE FILMS – DIRECTOR OF PHOTOGRAPHY

► El Premio Flaco (Cuba) Juan Carlos Cremata, 2008
► Frutas en el Café (Cuba) Humberto Padrón, 2003
► "Malabana" Guido Giansoldati, 2001 (Awarded by The International Independent Film & Video Festival in New York, Feb. 2002)

FEATURE FILMS – CAMERA OPERATOR

► Papá Mariscal (France) Leonel Steketee, 2013
► De vuelta al pasado (France) Leonel Stekete, 2010
► Cazador de dragones (Spain) Patxi Barco, 2009
► Omerta (Cuba) Pavel Girou, 2007
► Trópico Amargo (France) Jean Claude Flamand, 2006
► La edad de la peseta (Cuba) Pavel Girou, 2006
► Aventureros de los mares del sur (France) Daniel Vigne, 2005
► Habana Blues (Spain) Benito Zambrano, 2004
► Roble de Olor (Cuba) Rigoberto López, 2003
► Hacerse el Sueco (Cuba) Daniel Díaz, 2000
► Las Noches de Constantinopla (Cuba) Orlando Rojas, 2000
► Amazonas (France) Philippe de Broca, 1999
► Spirit of Havana, (Canada) 1999
► Las profecías de Amanda (Cuba) Pastor Vega, 1998
► Fangio (Cuba-Argentina) Alberto Lecci, 1998

DOCUMENTARIES – DIRECTOR OF PHOTOGRAPHY

► Reembarque (Gloria Rolando) 2014
► EL Camarón encantado (Olivia Cordovez) 2012
► El Sofá de La Habana (France) 2011
► Montaña de luz (Guillermo Centeno) 2006
► Jane Bunnett. "Alma de Santiago" (Canada) Op 2002
► Comercial Gran Caribe II (Humberto Solas) 2001
► Bien dentro de mí (Hoari Chiong) 2000
► Lourdes Medina (Bernabé Hernández) 1994. Op
► Adrenalina (Jorge Luis Sánchez y Lorenzo Regalado) 1992
► Wating for Dark (USA) Jordan Mechner 1992
► Gimnasia Femenina (Oscar L. Valdés) 1990
► Canto a Matanzas (Oscar L. Valdés) 1989 Coral Award (Photography)

XI FESTIVAL INTERNACIONAL DEL NUEVO CINE LATIINOAMERICANO (LA HABANA. DIC.1989)

► Restauradores (José Pablo Pomares) 1988
► Campeonas (Oscar L. Valdés) Óp. 1988
► Clip Adalberto Álvarez
► Alberto Porro (Francia)
► Mendive (Cuba)
► Luis Carbonell (Ian Padrón)

REFERENCES:
Available upon request

www.imdb.com/name/nm1526988, iMDB entry for Oscar M. Valdés


Electronic mail
acw_AT_afrocubaweb.com [replace _AT_ with @]

[AfroCubaWeb] [Site Map] [Music] [Arts] [Authors] [News] [Search this site]
Copyright © 1997-2013 AfroCubaWeb, S.A.