| | | |
| --- | --- | --- |
| | AfroCubaWeb | |
General Pedro Ivonnet Dufort

Mambi officer who fought alongside General Antonio Maceo, he later helped found the Independent Party of Color with Evaristo Estenoz and others. He was assassinated "while trying to escape" in the Massacre of 1912. Pedro Ivonnet was promoted to General two weeks before Maceo's death, so this promotion was not widely recognized. He therefore has the right, as does any Cuban general, to have a flag pole with the Cuban flag by his grave.

Pedro Ivonnet: pasión y muerte de un protestante del 12, Lic. Raúl Ramos Cárdenas, Investigador del Archivo Nacional de Cuba, 11/12 PDF

Pedro Ivonnet ¿héroe o villano? Consideraciones en torno a un centenario cercano, de Lic. Raúl Ramos Cárdenas, 11/11 PDF

Pedro Ivonet Dofourt: coronel mambí, general reivindicador, héroe de Cuba Read more about Pedro Ivonet Dofourt: coronel mambí, general reivindicador, héroe de Cuba 6/22/2010 Sierra Maestra: por Joel Mourlot Mercaderes - "Pedro Ivonet Doufort tenía 52 años de edad, al ser vilmente asesinado; dejó viuda a la señora Silvina Louhan, y huérfanos a los dos hijos tenidos con ella: Magdalena (Nena) y a Pedro Alejandro (Perucho). Fueron Evaristo e Ivonet, en verdad, las cabezas más visibles de esa monstruosa sevicia que acabó con la vida de unos 5 000 y más negros en todo el país, tanto de comprometidos como de personas completamente inocentes, con respecto a aquel movimiento de 1912…"

Dr.C. Guillermo Amaro Ivonet, nieto del General: "Son muchos los pediatras célebres que en Cuba y en el mundo han dignificado esa hermosa profesión, entre los cuales se encuentra el Dr.C. Guillermo Amaro Ivonet, Socio Titular de la Sociedad Cubana de Pediatría, Profesor de Mérito de la Universidad de Ciencias Médicas de Santiago de Cuba, Profesor Titular y Especialista de Segundo Grado en Pediatría y Fundador de la Escuela de Medicina de Santiago de Cuba, personalidad científica consagrada a la asistencia médica de la población infantil por más de 50 años y a quien tantas personas (colegas, alumnos, pacientes y familiares) admiran y recuerdan con respeto en Santiago de Cuba... Padre de la pediatría en las provincias orientales... Fiel a la hidalguía del General Pedro Ivonet 4 , su abuelo mambí; cooperó activamente con el proceso revolucionario y apoyó en su ciudad natal a los doctores Hugo Torres y Alfonso Araújo hasta el alzamiento de éstos en la Sierra Maestra." El 4 es una referencia al articulo de Raúl Ramos Cárdenas. Dr. Amaro Ivonet fue entrevisado en el capitulo 2 de Voces para un Silencio de Gloria Rolando, asi que en el capitulo 3.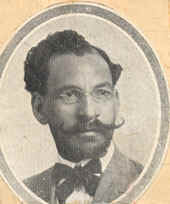 Pedro Ivonnet, Haiti, Cuba, and the 1912 Massacres of Afro-Cubans 5/12/2013 The World is Robert: "Here, we see the the caricature of him that links his Haitian ancestry with black revolution in Haiti, "savage" Vodou and Santeria practices, Haitian military style, sandals (reminisicent of the ambiguous general haitiano from a Dominican newspaper in 1845), and mocks the desires of Afro-Cubans for political equality by linking their demands to that of a black-led nation, as in neighboring Haiti. The transnational Caribbean is alive and well, with a longer history of white Cuban elites fearing another Haiti in the 19th century during Cuba's three-phased wars of independence (and of course one cannot deny the influence of American white supremacy, imperialism, and practices of lynching, etc. that likely contributed to the outbreak of violence targeting unarmed civilians)."

A cien años del vil asesinato de Pedro Ivonet Dofourt 7/17/2012 Sierra Maestra: de Joel Mourlot - "Los capitanes Aranda, sus captores, lo condujeron a la finca El Carmen (Caney), y dieron a aviso al Cuartel Moncada, desde donde, con órdenes evidentes de asesinar a Ivonet, enviaron al capitán Arsenio Ortiz, quien quiso adueñarse del prisionero y de su ayudante, Francisco Céspedes, y a lo que se opusieron los citados Aranda, quienes exigieron una orden escrita del mando superior; algo que obtuvo rápidamente el teniente Ortiz, quien -ya dueño de los dos prisioneros- los asesinó a ambos, a la altura de El Rodeo, cerca de El Caney, el 18 de julio de 1912."


Independent Party of Color / Partido Independiente de Color

1912 Massacre / el Massacre de 1912

www.ecured.cu/index.php/Pedro_Ivonet_Dofourt

Electronic mail
acw_AT_afrocubaweb.com [replace _AT_ with @]

[AfroCubaWeb] [Site Map] [Music] [Arts] [Authors] [News] [Search this site]
Copyright © 1997-2013 AfroCubaWeb, S.A.