| | | |
| --- | --- | --- |
| | AfroCubaWeb | |
Police Killings in Florida

Killed by Florida Police, Facebook

Florida Cop Watch, Facebook

Percentage of people killed by police in Florida, 2015

Black: 32 (45%)
Non-Hispanic White: 31 (44%)
Hispanic/Latino: 7 (10%)
Asian/Pacific Islander: 1 (1%)

-- A Breakdown of the 71 People Killed by Police in Florida in 2015 1/7/2016 Miami New Times:

These killings simply don't happen in Cuba, especially of unarmed citizens.

Percentage of people in Florida, by race, 2015
Race
Population
% of Total
Total Population
18,801,310
100
White
14,109,162
75
Hispanic or Latino
4,223,806
22
Black or African American
2,999,862
15
Some Other Race
681,144
3
-- suburbanstats.org/population/how-many-people-live-in-florida

Brevard County: Deputy Jafet Santiago-Miranda Executes Black Teen for Driving Past Him 11/22/2020 Cop Blaster: "Brevard County Deputy Sheriff's Office (BCSO) Deputy Jafet Santiago-Miranda executed two black teenagers for trying to drive past him. The shooting was caught on his dash camera where you can clearly see that the vehicle he shot at was turning right in an effort to drive past him (see video below). The vehicle was obviously going to great lengths to evade the officers without actually hitting them."

Rev. Jesse Jackson, Bishop Tavis Grant call for special prosecutor in the case of Devon Gregory 11/20/2020 First Coast News: "Bishop Tavis Grant has worked with the families of George Floyd, Breonna Taylor, Jacob Blake and most recently, Jacksonville-native Marcellis Stinnette. Now Grant and Rev. Jesse Jackson are getting involved in the case of Gregory. "Today, Rev. Jackson has placed calls to the governor and to the attorney general of the state of Florida," said Grant, national field director for the Rainbow PUSH Coalition. Jackson and Grant issued a statement Friday. It not only calls for a special prosecutor in the case but also asks for an investigation of the entire JSO."

Against Experts' Advice, Police Once Again Deploy Tear Gas at Miami Protest 6/29/2020 Miami New Times: "The widespread use of chemical agents on protesters in more than 100 US cities during the global coronavirus pandemic has drawn criticism from experts who say the substances could worsen the effects of COVID-19. Although chemical irritants are considered non-lethal, they can cause permanent disabilities if used incorrectly. Rubber bullets are far more damaging. A 2017 British Medical Journal analysis of projectiles used in crowd control found that 15 percent of people injured were permanently disabled and 3 percent died. Earlier this month, a Fort Lauderdale woman suffered a fractured skull after being hit by a rubber bullet at a protest."

Miami Cop Arrested And Charged After Tasing A Pregnant Woman On Her Stomach And Lying On The Police Report 6/26/2020 Blavity: "The Miami gardens cop dragged Safiya Satchell out of her car, knelt on her neck and began using a taser on her. She was pregnant and lost the child. "

WHEN LIBERTY BURNS 6/19/2020 Miami Film Festival: "On December 17, 1979, Arthur McDuffie failed to stop for a traffic light, and police officers gave chase. After realizing he could not escape, McDuffie surrendered. He was beaten until he lost consciousness, ultimately causing his death. The shocking acquittal of the offending officers charged in the murder sparked a civil disturbance in Miami's urban core. The "McDuffie Riots" that followed in May 1980 caused the deaths of 18 people, millions of dollars in destruction, and became a symbol of the city's struggle to contend with race relations and its sordid history during the Jim Crow era. The documentary engages family members and friends of Arthur McDuffie, retired police officers, eye witnesses, historians and contemporary community activists in interviews and it chronicles McDuffie's life and his rich relationships with his family and his community. It traces, with brilliant insight, the dynamics of race relations in the City as it manages increasingly diverse ethnic populations, growth and change. And yet, 40 years later, this seminal Miami reckoning is in danger of disappearing from public consciousness – something that Alexis' timely and important film seeks to redress."

10 SWAT members in South Florida resign from unit, saying they feel unsafely restrained by politics 6/13/2020 CNN: "The officers sent a letter, dated Tuesday, to Hallandale Beach Police Chief Sonia Quinones, saying they were "minimally equipped, under trained and often times restrained by the politicization of our tactics to the extent of placing the safety of dogs over the safety of the team members." The officers also said they were displeased after the command staff took a knee with activists and others during a demonstration on Monday, according to the letter."

Florida police organization offers to hire cops who were fired or resigned over police misconduct 6/8/2020 CNN: "As the cries for police reform grow louder across the nation, some police departments are holding their officers accountable, firing or suspending those accused of excessive force during recent protests. One Florida police organization has said it will re-hire those very officers accused of misconduct, and that offer is prompting outrage."

Activists plan Jacksonville protest over handling of Ahmaud Arbery case 5/7/2020 News4Jax: "Their 5 p.m. Friday demonstration will involve a motorcade, a gathering on the grounds of the Duval County Courthouse and a news conference. During the motorcade, participants will circle the courthouse either on foot or in a vehicle and are instructed to blow car horns or hold signs. The demonstrators are also making the protest more personal to Jacksonville, saying the Sheriff's Office has a "lack of trust, transparency and accountability" and has failed to release body cam video in police-involved shooting investigations. "Jacksonville to Brunswick we stand in solidarity demanding justice for Ahmaud but as well continue to demand justice for families here, who see their killers walking free due to a racially unjust system," said activist Michael Sampson of the Jacksonville Community Action Committee."

Videos show Miami Beach arrests of black spring breakers slammed as racist by NAACP 3/17/2020 NBC: "The Miami-Dade chapter of the NAACP is calling for the removal of the Miami Beach police chief and city manager in response to videos showing police interactions with black spring breakers last week. In one of the viral videos, a Miami Beach police officer appears to grab a young woman by the throat after she falls onto the street following a collision with an officer. That video was uploaded to social media and has been viewed more than 390,000 times."

Homestead Cops Gang-Beat Black Driver and Sent Him to Hospital, Lawsuit Says 10/1/2019 Miami New Times: "Once he took off, Bruton says, four more cops — Kevin Carvajal, Engelburt Guzman, Carlos Lago, and Shavar Simmons — rushed to the scene to help Calvo and DeJohn track him down. The six officers eventually found Bruton, who says the agitated group of cops responded by pinning him to the ground and gang-beating him within an inch of his life. The suit alleges the six cops punched and kicked Bruton in the face, slammed him into the ground repeatedly, and painfully wrenched his limbs in odd positions to restrain him. Bruton says the attack forced him to pay out medical expenses and left him with permanent scarring."

As white supremacy festers in America, Florida police agencies report few, sometimes even zero, hate crimes 8/10/2019 Sun Sentinel: "Florida is one of the worst offenders when it comes to a nationwide problem of inadequate reporting of hate crime, said Brian Levin, director of Cal State San Bernardino's Center for the Study of Hate and Extremism. "Large Florida cities have been notorious for having among the worst hate crime reporting in the nation," Levin said. "I don't know what is going on there, but somebody should shake something up.""

Third police officer sentenced to prison for framing black males 10/19/2018 Nation of Change: "After pleading guilty to framing innocent black men and punching a handcuffed suspect in the face, a third Florida police officer was sentenced Thursday to 27 months in prison for conspiracy to deprive a person of his civil rights and deprivation of civil rights under color of law. Two other officers have been sentenced to one year in federal prison, while their former police chief awaits sentencing next month."

Cops, courts in Miami-Dade harsher on blacks. New study details stark racial disparities. 7/19/2018 Miami Herald: "No group in Miami-Dade County gets treated more harshly in the criminal justice system than blacks, according to a joint study released Thursday by the American Civil Liberties Union and University of Miami. Researchers, who analyzed five years of data between 2010 and 2015, found stark differences across the board."

Police chief, officers in Florida town accused of pinning crimes on blacks to help stats 7/12/2018 Miami Herald: ""If they have burglaries that are open cases that are not solved yet, if you see anybody black walking through our streets and they have somewhat of a record, arrest them so we can pin them for all the burglaries," one cop, Anthony De La Torre, said in an internal probe ordered in 2014."

The N.R.A. Lobbyist Behind Florida's Pro-Gun Policies 3/5/2018 New Yorker: "Last fall, a study published in JAMA Internal Medicine revealed that, in Stand Your Ground's first decade, the number of homicides ruled legally justifiable had increased in Florida by seventy-five per cent. In one notable instance, two boat owners got into a fight and fell in the water; as one attempted to climb out, the other fatally shot him in the back of the head. A jury found the killer not guilty. Mary Anne Franks, the law professor from the University of Miami, told me that the number of justifiable homicides is likely to continue to rise. "The new amendment makes it even easier for killers who provide zero evidence of self-defense to avoid not only being convicted but being prosecuted at all," she said."

Another Tamir Rice – Florida Cops Shoot 14-Year-Old Playing With Toy Gun 2/22/2018 Truth Fight: "An African American boy was shot by Florida police in Jacksonville. The police say he was holding a toy Airsoft gun – much like the case last year with 12-year-old Tamir Rice, in Cleveland, Ohio. Police say that the boy suffered an injury to the leg, but he is expected to survive. When asked if the child was actually violating any laws, the police told us that there were no crimes they could report at this time that he is being accused of."

The Dead Bear NO WITNESS 12/13/2017 Folio Weekly: ""Centanni would also assert that the reason he actually armed himself was because he knew Roberts to be an armed drug-dealer," the report states. "The strong link between firearms and drug-dealing is inescapable.""

List of people killed by police in Florida 11/22/2017 Killed by Florida Police: 66 so far in 2017, 78 in 2016

New Miami Herald Investigation Looks At Abuse In The Florida Department Of Juvenile Justice 10/8/2017 WLRN: "One of the things that we had been told again and again was that officers and youth-care workers were paying young people in honey buns and other treats as a reward for dispensing discipline on other unruly youth. And we had reason to believe, based upon what we were hearing, that that might have been what resulted in Elord's death."

No charges to be filed in shooting death of Keegan Roberts 10/3/2017 New4Jax: "According to the disposition, the shooter approached Roberts [in Robert's own driveway] after leaving the note, Roberts exited the SUV and that's when the shooter says Roberts pointed a gun at him. The neighbor then pulled out his gun and shot three times, killing Roberts."

FLORIDA--JANUARY 1,2000 thru DECEMBER 31,2017 [Information obtained from Fatal Encounters] 9/22/2017 Killed by Florida Police: Total: 1344, with links to news stories for each.

Keegan Robert's mother and wife share about his death 9/2/2017 Facebook: "Listen to Keegan Robert's mother and wife share about his death. This is our neighbor/community member. Another mother without a son and wife without a husband. His wife did not share but she lost her baby she was carrying after her husband's death. The murderer, michael centanni IV, is on vacation. Never did a day in jail. Our State Attorney Melissa Nelson needs to charge him with murder. Please call State Attorney Melissa Nelson (904-255-2500) and ask her why this young man's murderer is still living across the street with NO CHARGES FILED. We will not rest until there's #Justice4Keegan!"

Rally held for Jacksonville man shot, killed by neighbor during dispute 8/5/2017 Action News Jax: "The victim's wife, Eliany Diaz Roberts, and his mom, Cecillia Shepard, tell us Keegan was confronted by a neighbor who pulled the trigger on their loved one. "I want this man arrested, he's walking around and when my daughter-in-law walks outside and she has to look at him over there laughing," said Shepard."

JSO officer accused of pointing gun at Jacksonville pastor at traffic stop 8/4/2017 CBS: "The Jacksonville Sheriff's Office said it is investigating allegations that one of its officers pointed a gun at a local pastor during a traffic stop. Reverend Darien Bolden Sr. says he was with his nephew at the time and that he was being questioned about tinted windows. Community leaders are saying this was racial profiling."

Rundle Won't Charge Prison Guards Who Allegedly Boiled Schizophrenic Black Man to Death 3/17/2017 Miami New Times: "On June 23, 2012, Darren Rainey, a schizophrenic man serving time for cocaine possession, was thrown into a prison shower at the Dade Correctional Institution. The water was turned up top 180 degrees — hot enough to steep tea or cook Ramen noodles. As punishment, four corrections officers — John Fan Fan, Cornelius Thompson, Ronald Clarke and Edwina Williams — kept Rainey in that shower for two full hours. Rainey was heard screaming "Please take me out! I can't take it anymore!" and kicking the shower door. Inmates said prison guards laughed at Rainey and shouted "Is it hot enough?""

Police said man killed by cops had a gun. His family said he had his hands up. 12/30/2016 Miami Herald: "A 21-year-old man, a new father and avid dirtbiker, was shot to death Friday night by Miami-Dade police outside a duplex in West Perrine. Family members identified the dead man as Jamal Rollins. They said police shot him five times while he stood outside his car with his hands up. A police spokesman said Rollins had a gun."

Miami shooting: Man shot by cops was lying down with hands up, lawyer says 7/21/2016 CNN: ""I'm like, 'Sir, why did you shoot me?'" Kinsey said he asked the officer. "He said to me, 'I don't know.'""

Cop shoots caretaker of autistic man playing in the street with toy truck 7/20/2016 Miami Herald

Brevard County Sheriff's Deputy Yousef Hafza Charged With Murder Of Clarence Mahogany X Howard 6/28/2016 Brevard Times: "The Florida Department of Law Enforcement has arrested Brevard County Sheriff's Deputy, Yousef Hafza, for the charges of second degree murder with a firearm and attempted second degree murder with a firearm following an alleged road rage incident on Emerson Drive in Palm Bay, Florida on Sunday, June 19, 2016."

Cop Kills Civilian During Act of Road Rage — Officer Not Arrested, Gets Vacation Instead 6/20/2016 Free Though Project: "A 22-year-old man was shot dead in Palm Bay, Florida, by an off-duty Brevard County Sheriff's deputy in a fit of uncontrolled road rage late Sunday morning, marking the latest in incidents involving police coming unhinged and targeting civilians. Deputy Yousef Hafza, a veteran cop with 11 years in law enforcement, shot Clarence Mahogany X. Howard in an apparent case of road rage, though details about what took place remain murky, unnamed investigators told local ABC affiliate, WFTV 9."

Clarence Mahogany X Howard, 22 6/19/2016 EBWiki: "The Florida Department of Law Enforcement is investigating after an off-duty Brevard County Sheriff's Office deputy fatally shot a 22-year-old man in an apparent road rage incident in the area of Emerson Drive and St. John's Heritage Parkway in Palm Bay."

FBI will review Jacksonville police shooting that killed suspect Vernell Bing Jr. in May 6/10/2016 Florida Times Union: "Southern Christian Leadership Conference spokesman Ben Frazier, whose organization's June 4 statement called Bing's death "an execution" and an unjustified police shooting, said this kind of independent assessment is imperative "to ensure accountability and trust." "It is a move in the right direction," Frazier said. "We don't want to get too excited except to say that we have never been satisfied with the internal investigations.""

Casi 60 arrestos en el primer día del festival urbano de Miami Beach 5/29/2016 Cibercuba: "No obstante, la Policía de Miami Beach percibe que hasta el momento esta fiesta espontánea que se inició el viernes y atrae a miles de personas a las calles de Miami Beach, en su mayoría afroamericanos, transcurre con normalidad y sin mayores incidentes."

On Memorial Day Weekend in Miami Beach, Black Tourists Are Second-Class Citizens 5/24/2016 Miami New Times: "The goal seems to be to rob African-Americans blind, lock up as many of them as possible, and occasionally use some for police target practice. (Remember the 2011 killing of Raymond Herisse, in which 12 officers fired more than a hundred rounds, four others were wounded, and no one was charged?) If Memorial Day weekend were treated like a convention coming to town, Miami Beach would get hotels to block off rooms and give visitors discounted rates. The city, the county, the Greater Miami Convention & Visitors Bureau, and commercial airlines would kick in money to help support the event. Government officials would work with the event promoters to provide comped rooms to celebrity entertainers and comped ballrooms for panels and events. Meanwhile, in cities like New Orleans and Toronto, government officials are rolling out the red carpet for events that cater to a predominantly black clientele."

Vernell Charles Bing Jr, 22 5/23/2016 EBWiki: "Neighborhood residents said gunfire erupted about 5:50 p.m. after a red Camaro convertible fleeing police collided with a squad car. The Camaro then crashed into the side of a building at East Ninth and Liberty streets. The Camaro driver was shot after he bailed out of the car and fled while limping, residents said."

The McDuffie Riots 5/11/2016 Miami Times: ""If the jury was half Black and half white would there have been a riot?" Dunn asked the room at HistoryMiami museum last week. "It was the most difficult thing I have seen in 75 years. It was worse than the 1926 hurricane. The hurricane damaged property. This damaged souls.""

Focus on the harsh realities of black Miami 4/13/2016 Miami Herald: Comment by Alberto Jones - "Visit the Latin American School of Medical Sciences in Havana and the Caribbean School of Medical Sciences in Santiago de Cuba, where thousands of students from over 100 countries are trained to become physicians, nurses, technologists etc., For Free!. The main task assigned to the Medical School in Santiago de Cuba, is to train students from Africa and the Caribbean, especially from Haiti where hundreds have received their degree, are working in Haiti and probably in your community and whose goal is to graduate 100 physicians per year for the next 20 years. Does anyone really believe that our kids in Opa Locka, Miami Gardens, Overtown, Cincinnati, Flint or Chicago are untrainable and born killers? Mr. Monestime, do not fear historical Cuba haters in the Local, State and the Federal Government, most of whom are descendent of former slave-drivers and perpetrators of most of the ills of blacks in Cuba. Be consequent with your duties, seek help for our youths killing each other and learn, why in Cuba, no black person, has been gunned down on the streets, in school, the workplace or in church since 1959."

16-Year-Old Suicidal Teen with Toy Gun Killed by Florida Police 3/23/2016 Atlanta Black Star: "A Black teen was killed Sunday night in Florida after calling police to say he was going to commit suicide. It took one hour for police to show up, and they shot and killed Robert Dentmond in front of his apartment building. Nine Gainesville Police Department officers and Alachua County Sheriff's deputies shot at the 16-year-old in the parking lot, where bullets flew through the building and affected residents there, according to Fusion."

How an Orlando data scientist is helping #BlackLivesMatter make the case against police violence 3/23/2016 Orlando Weekly: "Using public records, online articles and crowdsourcing, Burghart found that in 2013, 1,271 people were killed during interactions with police. In 2014, that number increased to 1,295, and by 2015, it was 1,299. From 2008 to 2014, the average number of people killed by police was around 419 people per year, according to the FBI's Uniform Crime Reports. Why the discrepancy?"

Basta de criminalidad policíaca en el imperio yanki 2/23/2016 Fidelista Por Siempre: Video de la matanza de un hombre desarmado -- "¿Hasta cuándo? Y el presidente de ese criminal país pretende darnos lecciones de derechos humanos…., que descaro tiene ese hombre. Primero ocúpese de su policía, que en Cuba JAMAS la policía ha asesinado a uno de sus ciudadanos. Basta de criminalidad policíaca en el imperio yanki. COMPARTIR y mostrar al mundo a estos criminales disfrazados de una "gran" democrazy."

Black Miami police officers protest Beyoncé boycott 2/20/2016 ABC: "Do whatever is necessary" to put a stop to Ortiz's "antics" and "long pattern of irresponsible behavior," as he continues to portray African-Americans "in a negative light with thinly veiled racist overtones," Moore said in the letter."

A Breakdown of the 71 People Killed by Police in Florida in 2015 1/7/2016 Miami New Times: "There are some notable findings for Miami-Dade: The county had by far the most police-involved deaths, with 15 last year. The county with the next highest number was Jacksonville, with just six. The Miami-Dade Police Department led the state in deaths, with seven tied to department officers, while the City of Miami was third, with three."

The Ocoee Massacre 11/5/2015 Weekly Challenger: "The siege of Ocoee claimed numerous African-American victims. Langmaid, an African-American carpenter was beaten and castrated. One mother, named Maggie Genlack, died with her pregnant daughter while hiding in her home, their bodies found partially burned under their home. Roosevelt Barton, an African-American hiding in July Perry's barn, was shot after the mob set fire to the barn and forced him to flee. Hattie Smith was visiting her pregnant sister-in-law in Ocoee when her sister-in-law's home was set on fire. Smith fled, but her sister-in-law's family was killed while they hid and waited for help that would never come."

The Counted: the definitive map of US police killings in 2015 6/4/2015 Guardian

Fla. Prosecutors Drop More Than 36 Cases Linked to Racist Cops 4/11/2015 The Root: "The Broward County State Attorney's Office has abandoned more than three dozen criminal cases connected to four former Fort Lauderdale police officers entangled in a racism scandal."

Florida Lynched More Black People Per Capita Than Any Other State, According to Report 2/11/2015 New Times: ""Many people are under the wrong impression that the majority of lynchings were black males assaulting white females, but most were because black men and women were accused of stealing," University of Florida professor Jack Davis, who has written about Florida lynchings, tells New Times."

Miami's Spate of Cop Shootings of Black Men 3/25/2011 Color Lines: "The black men were all killed by Latino police officers, the New York Times reported."

Trial to begin for 11 Miami officers 1/6/2003 Boston Globe: "Based on information from two retired officers who pleaded guilty to conspiracy in September 2001, 11 other officers were indicted on federal corruption charges alleging coverups in four police shootings in which three men were killed… ''The history of Miami has been characterized by ugly police-community relations,'' said Howard Simon, executive director of the American Civil Liberties Union of Florida. ''There is a loss of confidence, if not outright hostility, by the minority community because of the great number of shootings of typically unarmed black young men.'' …The four Miami shootings involved the killings of three black men. A fourth man was wounded, and another man involved in the shooting was not harmed."

Killed by Florida Police, Facebook
Florida Cop Watch, Facebook
articles.latimes.com/keyword/police-shootings-florida/recent/3
National, with state breakdown
The Counted: people killed by police in the United States – interactive, the Guardian
Eb Wiki
ebwiki.org
projects.propublica.org/protest-police-videos/ - We Are Tracking What Happens to Police After They Use Force on Protestors
Cop Blaster: Police Misconduct Reporting & Monitoring
Florida Boycott in the 1990s
Now long forgotten, there was a 3 year Miami boycott in the early 90's, called after riots over the execution style killing of a black man by a latino police officer in the 80's and a number of other raw racist behavior, especially the Cuban Americans' insult to Nelson Mandela in 1990. Attorney H.T. Smith was a leader of the Boycott Miami committee. Estimates of lost business spanned the gamut from $40 million to $3 billion and the boycott was settled through some old fashion patronage, particularly the construction of a black owned convention hotel in Miami Beach:
Miami Beach signs deal for new black-owned hotel, 3/5/97

The City of Miami Beach signed a letter of intent today with developer R. Donahue Peebles, who plans to build and operate a black-owned hotel at 15th Street and Collins Avenue on Miami Beach. Peebles won a bid last summer to develop the $59.9 million, 425-unit hotel, which was one of the goals established to end a black convention boycott that began in 1990. The hotel will be called the Royal Palm Crowne Plaza Resort.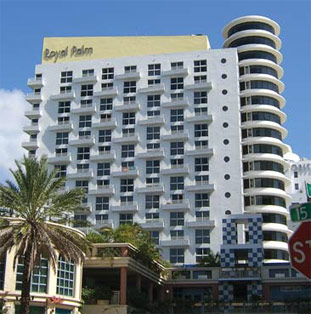 Historic Boycott Miami forced long-overdue changes, proved the power of the black community 7/16/2015 Miami Herald: "Improvements for the African-American community directly and indirectly attributable to the boycott were both numerous and notable: court-ordered single-member districts for better representation of minorities, the creation of the Visitor Industry Council to expand African-American participation in the county's tourism industry, scholarships for black students to attend Florida International University's hospitality program, an investigation of Haitian protesters' treatment by police during a rally in July 1990, and the establishment of a black-owned, convention-quality hotel in the Miami Beach area." [No critical discussion here. The hotel was sold for 127 MM, how did that benefit the community?]

How Miami's Shrewd Black Leadership Turned The Mandela Snub To Local Advantage 12/5/2013 WLRN: ""South Florida, meanwhile, was getting some hard facts about its tourism industry. Basically, it was discovering that while black travelers and conventions were a mainstay of Miami tourism, the industry had few ownership, management or even employment opportunities for African-Americans. 'We needed something to get national support. We were looking for something to ignite a movement.' Twenty percent of the conventions that had come to Miami the year before Mandela arrived were black, recalls H. T. Smith, a lawyer with deep Miami roots. It was a market segment worth hundreds of millions of dollars and local blacks couldn't even get hired as waiters or bartenders, he said."

Miami's Royal Palm Sells For $127.5m 2/1/2005 Black Enterprise: "The Royal Palm Crowne Plaza Resort, a black-owned luxury Miami hotel, is changing hands now that developer R. Donahue Peebles has agreed to sell it to The Falor Co. for $127.5 million. Peebles stands to make a hefty profit, as he reportedly spent $84 million to acquire the 417-room, oceanfront resort, which opened in 2002. His company, Peebles Atlantic Development Corp. (No. 42 on the BE INDUSTRIAL/ SERVICE 100 list with $82 million in sales), was named the BLACK ENTERPRISE Company of the Year in 2004. Peebles' acquisition of the Royal Palm was a high-profile venture because its sale to an African American developer was a concession by Miami Beach to end a three-year tourism boycott." [Sold to a white developer.]

Miami Beach: Black-owned hotel ends boycott, begins hope 5/18/2002 Houston Chronicle: "The former Washington resident, who built his business developing commercial office space, swooped into Miami Beach in 1996, bought a dilapidated hotel and won a municipal bid to build another in an adjacent oceanfront lot. The venture was at the center of a settlement between activists, city officials and lodging executives ending a three-year black tourism boycott of South Florida. It cast Peebles as the nation's first African-American to develop and own a major convention-resort hotel… The hotel will be able to draw a good chunk of the black tourism market, worth $36 billion last year, according to industry watchers. It is sold out for Memorial Day weekend, booked the Black Film Festival in June and an NAACP conference next year, marketing director Velton Showell said."


The Beast in Florida: A History of Anti-Black Violence (2013)

by Dr Marvin Dunn
Florida has worked hard to cultivate its idyllic image as a sunny, pristine paradise. But beneath the outer garments of glitz, sun, and ocean are hidden deep secrets—secrets that have been intentionally buried beneath the sands of the former lynching capital of America.


When we teach our children about the horrors of the past, we do so in the hope that exposing the true nature of these atrocities will deter future generations from repeating them. This is Marvin Dunn's impetus in writing The Beast in Florida, an unflinching and haunting look at the dark past of the Sunshine State. A symbolic embodiment of racial violence and hatred, "The Beast" openly prowled the nation between the Civil War and the civil rights movement. It reared its head for a variety of reasons—psychological, political, and economic—but the outcome was always brutal and often deadly. As we are reminded all too frequently, the Beast is not gone; it is merely bound up, waiting to loosen its chains.
From the bombing of Harry T. and Harriette Moore's home on Christmas Day to Willie James Howard's murder, from the Rosewood massacre to the Newberry Six lynchings, Dunn offers an encyclopedic catalogue of the Beast's rampages in Florida. Instead of simply taking snapshots of incidents, Dunn provides context for a century's worth of racial violence by examining communities over time. Crucial insights from interviews with descendants of both perpetrators and victims, as well as newspaper, police, and court reports of these events shape this study of Florida's grim racial history. Rather than pointing fingers and placing blame, The Beast in Florida allows voices and facts to speak for themselves, facilitating a conversation on the ways in which racial violence changed both black and white lives forever.
Dunn—a Florida native who lived through some of the events described in this book—writes as an insider, adding previously unknown details to the historical record. This comprehensive and balanced look at racially motivated violence presents the underside of Florida history—a story of hatred and some of its deadly results. The result is a panorama of compelling human stories that challenges conceptions of what created and maintained the Beast.
Place cursor over image for pricing & to order ==>

Electronic mail
acw_AT_afrocubaweb.com [replace _AT_ with @]

[AfroCubaWeb] [Site Map] [Music] [Arts] [Authors] [News] [Search this site]
Copyright © 1997-2013 AfroCubaWeb, S.A.