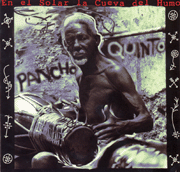 Pancho Kinto: Omo aña, hijo del tambor, por Elsie Carbó, 1994

Discography


Pancho Quinto: a rumbero from Havana
Pancho Quinto is a master of the bata, the Yoruba ceremonial drum, as well as of the quinto, the lead drum used in the rumba, which has its roots in the Cross River Delta among the Efik and the Efo.
Interviewed on his '98 tour to the US, Pancho said: " I play a polyrhythmic rumba. I never go outside the Cuban rumba, and I play that perfectly, but I add to it, as if I had a whole drum set in my hands. And I play many instruments, like cajon [wooden box], bata, bells." Recent album: "En el Solar la Cueva del Humo," with Round World.

Quinto continues to pay bata at toques and his group is called Añagi: "this is the name of my saint in the Yoruba religion. He is a boy, a mischievous boy, but he's good, and I love him a lot and respect him.

Pancho Quinto is pleased by the reception he got on his '98 American tour and speaks happily of the collaboration with Bellita, a young pop-jazz pianist who trades songs with him and sometimes sings along on his numbers. At 65, Quinto is becoming famous: " I have played all my life. I worked on the docks, but I always lived with the music and never left it. I taught other groups that traveled and became famous, but I kept on working, as a modest person, more as a teacher than a performer. " Quinto was in the US several years ago with Yoruba Andabo, a group known for its rumba and strong Congo music.

"I never wanted to be famous, but now that I am old, now my destiny wants to make me famous. But I don't care about that. I don't want to be Nat King Cole or anybody. I am just a humble man, playing for my people, for Cuba, and for all the people of Latin America and all over the world."
Pancho Quinto toured the US in '99 with Jazz musician Jane Bunnett and Spirit of Havana. He is touring the US again in the summer of 2000 with this same group. See their page on AfroCubaWeb: Spirit of Havana