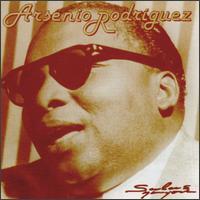 Discography
Arsenio Rodríguez and the Transnational Flows of Latin Popular Music, by David F. García, 9/06
Arsenio Rodriguez
"Arsenio Rodriguez was a great Cuban bandleader, who reached the height of his formidable powers during the late 1940s and 1950s. Blinded while a young boy by a kick in the face from a mule or horse, Arsenio was known as "El Ciego Maravilloso," the Blind Marvel (or the "marvelous blind guy," for the more literal among you).

By reinventing the traditional Cuban son, Arsenio gave birth to a thoroughly rhythmic dance music, the precursor to salsa, which has since taken over the airwaves of much of the western hemisphere.

Despite his artistic and commercial success during the '40s and '50s, Arsenio died in almost complete obscurity in Los Angeles in the early 1970s."

-- from http://members.theglobe.com/rdeaguiar/ARSENIO/
Arsenio was born near Union de Reyes in the Province of Matanzas.
Arsenio handed over his All Star band to trumpettist Felix Chappotín when he moved to New York in 1948. That group became the Conjunto Chappotín, whose successors, many of whom are relatives of the original musicians, will be touring the US soon. Another sideman, pianist Rubén González, recently toured with the Afro-Cuban All Stars and has cut his own album.
Radio Havana's Eugene Godfried points out how one of Arsenio's enduring tunes is "Adorenla como Marti" which deals with the theme of the AfroCuban Mambi fighters in the Army of Liberation at the end of the last century - they formed the backbone of that Army. The title refers to the need to respect the AfroCuban leaders who motivated the masses to struggle against Spain, leaders Arsenio names in his song -- Antonio Maceo, Quintin Banderas, Flor Crombet, Bermudez, and others. He could not say Adorenlos but had to use the feminine to disguise who shouild be worshipped, as he could only go so far in his support of these leaders.
David Garcia mentions this song in his book, "Arsenio Rodríguez and the Transnational Flows of Latin Popular Music"

The Club Cubano Inter-Americano is still in existence and described on this site.